How Much Does It Cost to Rent an Electric Scooter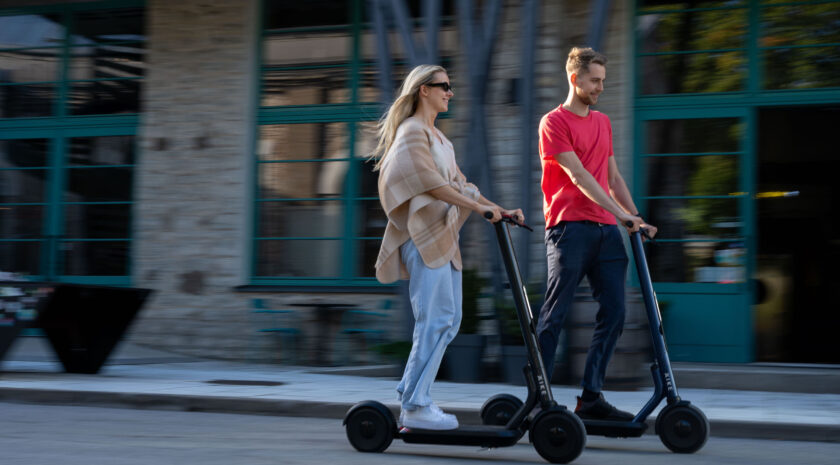 Rental scooters are a part of inner-city mobility in every major city in Europe. To most people, it looks like an affordable way to get from one point to the other. In this blog, we try to find an answer to the question: "How much does it cost to rent an electric scooter?" Let's find out! 
Why Are Electric Scooters So Popular?
Electric scooters have been around for a while, but their popularity is still on the rise. In nearly every big city in the world, you can find electric scooters that you can use to get around when you're visiting. These electric scooters are available to the public, and you can rent them by scanning a QR code on the scooter itself. But why are they so popular? 
E-scooters Are Easy to Use 
Even if you have never used an electric scooter in your entire life, you will manage to use it when you try it out for the first time. In less than a minute, most people will have the basics of how to use an e-scooter figured out. This is because most of the electric scooters have 3 simple steps to start and stop. A little kick-start is often needed to start the electric motor of the scooter. Then you keep your hand on the throttle until you reach the speed that you feel comfortable with and to stop you just press the brake handle on the steering wheel.
E-scooters are Affordable
When you are a tourist visiting a new city, getting around with public transportation can be pretty challenging. Another option you have is to take a taxi, but this can get quite expensive. With e-scooters, you can travel from one point in a city to another point in a relatively cheap way, without having to communicate with anyone. This makes it one of the best options for tourists who are in town for a few days. The fact that they're affordable to use is not an answer to the question "How much does it cost to rent an electric scooter?", but we will discuss this later in this blog!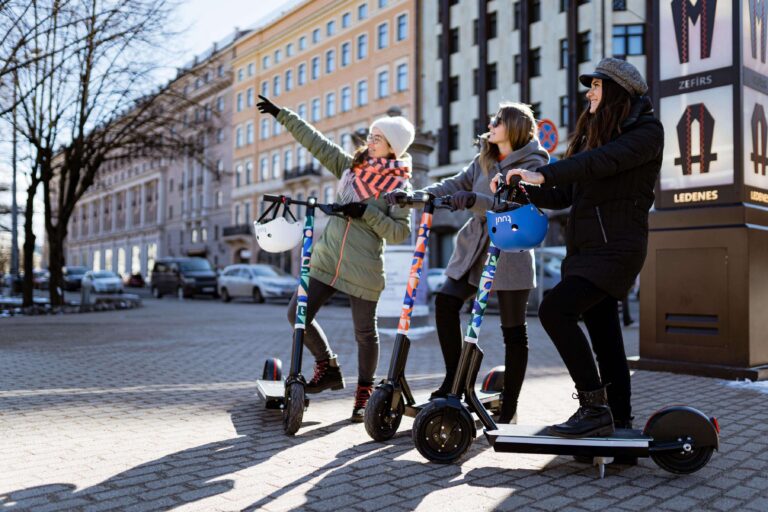 No physical effort needed 
One of the main reasons that it has become insanely popular to rent electric scooters is that you don't have to put in any physical effort to get around a city! Not only is it perfect for tourists who want to discover everything a city has to offer, but it is also beneficial for people who live and work in these cities!
Why Are Electric Scooters Part of Modern Inner-City Mobility Solutions?
There is no denying the fact that rental scooters have become a big part of inner-city mobility, but they're also a big part of the solution to making inner-city mobility greener and more practical! Some of the reasons that make electric scooters and rental scooters part of the urban mobility solutions.
Sustainability 
With new regulations on sustainability, big cities have to find new ways of reducing their carbon footprint. Inner-city mobility is one of the most polluting and non-ecofriendly contributors to the carbon footprint of these cities. By providing an infrastructure for the use of electric scooters and by encouraging people to rent electric scooters, big cities have managed to reduce the number of motorized vehicles in their city centers. 
Reducing the congestion of cars 
Rush hour is one of the worst times to be in a car or on public transportation in big cities. The congested cars move very slowly, and buses and trains are packed with people. Rush hour is also one of the most polluting moments of the day, with cars standing in traffic with their engines running, while the exhaust fumes have no way of escaping the city. 
This is why people who live in big cities have adapted and are choosing to use the rental scooters outside. This way, you can cruise in between traffic or on bicycle lanes with nothing holding you back, making your commute from work to your home a lot faster! 

No need for parking spaces
Because the rental scooters don't need to be locked into a certain place, there is no need for parking spots. Usually, when you are looking to rent electric scooters in a city, you can find them near the entrances of metro stations or popular public places. 
The people who own their electrical scooters can easily carry them around and even park them inside their homes, so they don't get stolen or damaged while parked outside.
What Is The Average Price to Rent a Scooter?
The price of using these rental scooters can vary from provider to provider. There are also some fees that you will have to pay whenever you start a ride. In most cities, to rent a scooter it will cost 1 euro to unlock it, and between 15 cents to 80 cents per minute of using the scooter. Let's say you use the scooter for a short ride of 5 minutes, it can cost up to €4. However, most of these providers also have promotions that give you up to 5 minutes of usage for free when you try it for the first time.
How Much Do You Spend Per Minute On The Rent of An E-scooter?
Depending on what type of rental scooter you use, the price per minute can vary, but on average the price per minute on a rental scooter is somewhere between 15 cents and 80 cents. Which makes it a very easy and affordable way of traveling around in cities.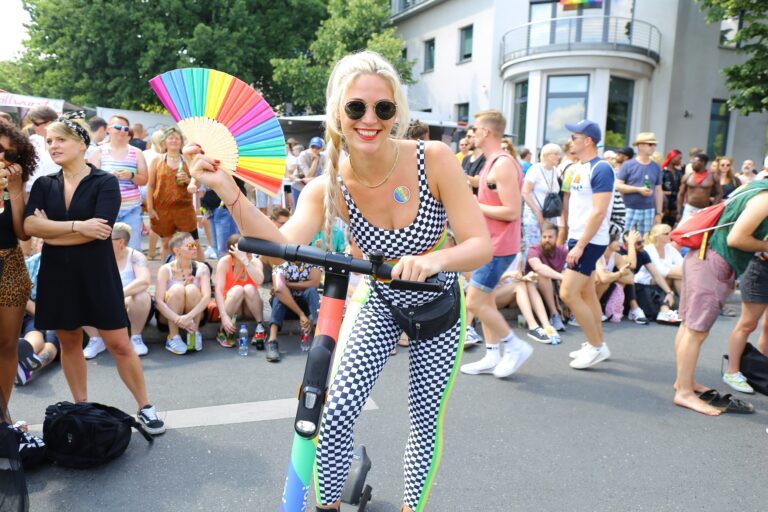 Disadvantages of public scooter rental 
When you rent electric scooters that are accessible to everyone, you might experience some disadvantages. Things like battery percentages or the comfort of the ride will completely depend on the maintenance of these rental scooters. After placing them in a city, the provider rarely comes around to fix issues if the scooter is still able to drive around. 
Additionally, relying on public scooter rentals is hindered by their unpredictable availability. Unlike personal vehicles, scooter availability is not guaranteed everywhere. Users may face challenges finding scooters due to high demand or maintenance issues, questioning the reliability of these services for consistent transportation, especially during peak times or in areas with limited scooter distribution.
How Much Does It Cost to Rent an Electric Scooter from Äike?
If you live in a big city or visit one almost daily, renting electric scooters can become quite expensive. That is where Äike comes into play! With Äike you can have your own personal electric scooter. Now you might think that you have to buy it to use a personal electric scooter and ask yourself "How much does an electric scooter at Äike cost?", and the answer is: Nothing! Äike is an electric scooter manufacturer that gives people all over Europe the ability to rent an electrical scooter on a subscription base. The company has 3 different rental plans you can choose from: 
Äike X:

The most beneficial plan with the monthly cost of €59/month. This plan comes with free delivery, repairs, and maintenance and a 5€ set-up fee. To enjoy this price, you have to agree to a 24-month rental contract. This is the perfect plan for any student who wants to get around campus efficiently and for people who have to work in the city center! 

Äike Fix:

This is a 12-month rental contract that gives you access to free delivery, repairs, and maintenance of the rental scooter. With this plan, you also pay only a 5€ set-up fee and €65/month.

Äike Flex:

Are you not sure how long you are going to need an electric scooter to get around? But do you still want to have the comfort of having your rental scooter that is always taken care of? Then the flex plan from Äike is the go-to option for you. It is cancellable at any time, with a minimum term of one month, and you still get free delivery, maintenance, and repairs. For this plan an additional 50€ set-up fee applies and a fixed subscription fee of €85/month.
Benefits of Renting an Electric Scooter From Äike
The monthly fee of €59 might seem expensive, which is why we have done some math to showcase that there are benefits to having a subscription. If you rent an electric scooter 5 days a week to get from your home to your work and back, you will have to pay €42 just to unlock the scooter. If you take a 5-minute ride every time, it will be another €40 added to this amount. This excludes any trips you make during the weekend or for leisure activities. 
With the subscriptions of Äike, you have access to your personal electric scooter 24/7 and whenever happens to it, it gets repaired completely for free!