Tips On How To Choose the Best E-Scooter For Your Fleet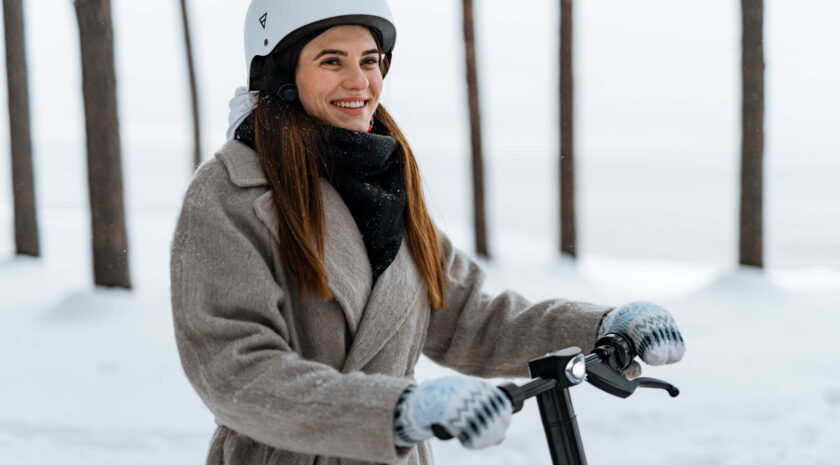 As the first e-scooter boom has blown over, we are seeing a change in scooter-sharing. At first, time to market and expansion was the number one goal. Hundreds of millions of VC money flowed into scooter-sharing companies and in exchange, those companies needed to show they can multiply their fleets quarter after quarter. That is no longer the case.
Scooter-sharing is coming out of infancy and reaching maturity as a business model. That means, when growing up, all of a sudden you need to take responsibility. Instead of relying on VC money, operators need to lay a plan for a sustainable and profitable business. 
We believe that choosing the right e-scooter for your fleet is the foundation of success for ride-share businesses. There are a number of aspects to take into consideration when choosing which vehicle you're placing your bets on. We're happy to share our learnings from the past 7 years in the micromobility sector.

What To Consider When Choosing An E-Scooter For Your Fleet:
1. Geography & Weather
If you are based in Europe, source from Europe. During the pandemics, shipping from Asia has become very time-consuming and expensive. If you add import fees on top, then EU-based products are already quite price-comparable. Not to mention it's a plus to support local production.

What's the weather like? In this business, talking about the weather isn't just a chit-chat. You need to make sure your vehicle can withstand both low and high temperatures or humidity. Swappable batteries are an industry standard, but make sure swapping in rain is also acceptable by the manufacturer.
2. Road Conditions
Road quality? For even surfaces, full rubber tires can do the trick. But if you have cobblestones or not the smoothest road conditions, go for larger wheel diameter and inflatable tires.  Shock absorbers for scooters are debatable as the total length of the shock is small, it only has an effect when configured for rider weight. But people come in all sizes.

Is the surface flat or hilly? For riding uphill, you need more torque and power. And what goes up, must come down, so make sure you have good brakes.
3. Riding Behaviour
Is it safe? We cannot stress this enough – strong build, good brakes, and handling are crucial.

Is your scooter fun to ride? It's important that customers love the ride. Or else, why be in the business, right?
4. Vehicle Safety
Can you keep your scooter safe? When we continue on the profitability theme here, then a good scooter is an investment you want to keep for multiple years and not let it be stolen or vandalized. A good scooter has fully hidden cables & electronics, a buzzer, and some antitheft features on the IoT. Speaking of which, keep it hidden and make sure it comes with a spare battery for asset recovery in case your scooter itself has the battery drained or removed.
5. Stick Out From the Crowd
Do all operators have the same scooter? There are 2-3 brands that most fleet operators are using today. If you want your scooter to be chosen over a competitor next to you, think of how you can differentiate.
6. Compliance
Does your scooter please the local government? Municipalities are calling the shots, deciding how scooter operations are to be done, which scooters are allowed, and who gets to operate in the end. So, having a good relationship with local legislators is very important. And having a thoroughly sustainable scooter operation will help them achieve environmental goals as well as improve everyone's commute options.
7. Profitability
Are your operations able to survive without constant capital injections? The number one reason why none of the early scooter companies could reach profitability was the spending on scooters. In time, they were able to optimize their critical processes, but keeping scooters operational was eating up all their savings. In order to reach profitability, one should look into the total cost of a scooter including all maintenance over a longer period of time, e.g. 5 years.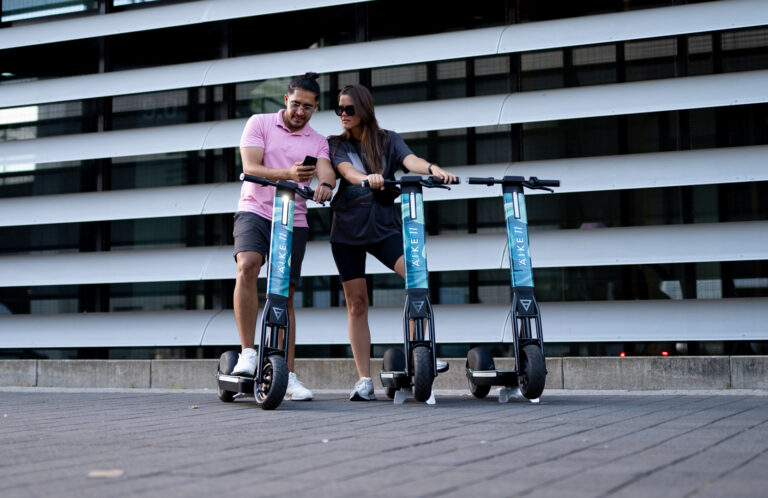 What Electric Scooter Would Be The Best Choice For Your Ride-Share Business?
Based on the recommendations above, we would suggest considering Äike Business electric scooter. And listen, we're not just tooting our own horns here. We really do know this scooter is the best. It meets all the criteria to run a profitable business, it's long-lasting (up to 5 years of effective lifetime) and the built-in IoT provides the highest level of security and operations onboard the scooter e.g. over-the-air updates and configurations.
To make sure that the operations run smoothly, the scooter is modularly built, it comes with swappable batteries, a battery charging station, and even electric swapping vehicles. The scooter clearly stands out from the rest with its sleek and comfortable design, winning the loyalty of everyone who rides them.
The Äike fleet scooter is also green from the core. 42% of input materials used in production are recycled and 90% of materials can be recycled at the end of their lifetime. For the cherry on top, it's the only sharing scooter built in Europe and is already proven to be a critical part of profitable sharing operations.
Sounds good? To remove all hesitations, we'll be glad to ship you a demo scooter. Have a test-ride and you'll see why this scooter will separate your business from the rest. Get in touch with our expert