Story About The 100% Theft Protected Electric Scooter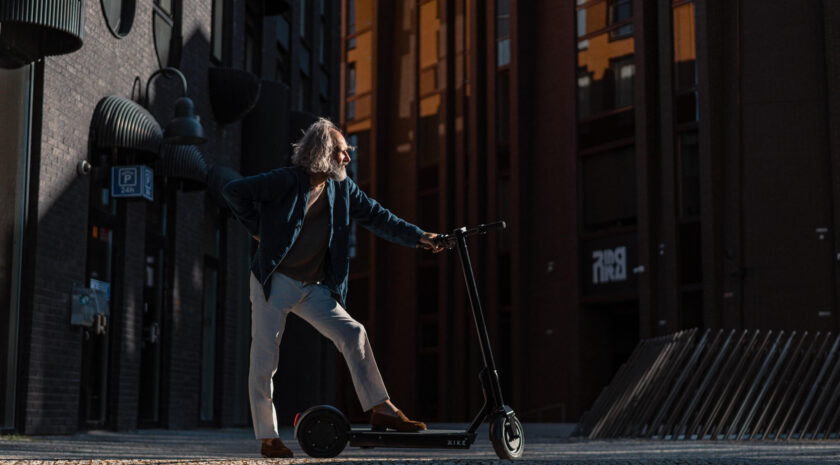 The e-scooter business is booming and according to statistics, owning an electric scooter is more popular than ever. So, of course there are curious eyes, waiting to get their hands on this precious property. Whether it is protected with electric scooter lock or not. 
As we've already said before on our website, our sturdy e-scooter Äike is virtually unstealable. But that doesn't stop some people from executing a not-very-well-thought-through plan to prove us wrong. 
One of our customers reported their Äike missing recently. We thought some vandals might have taken it, and it's probably lying in the bottom of a lake somewhere, with minimal damage and we're able to get it working again and return to the owner. Little did we know that this was not the case.

GPS helped to track the missing Äike down quickly
One of our team members (we now call him the Äike Buster) decided to take it upon himself to track the scooter down. Thanks to our IoT, we're able to do that from our end. He found the scooter on the same day it was reported stolen, in a self-service guest house of all places. We also recovered a stolen TV from the same place. Just in time for UEFA Euro 2020!
For those of you, who don't know much about Äike yet, it takes a lot of manpower and willpower to even try to pull something like this off. It is absolutely impossible to ride without turning it on through your personal account on our app. So forget about the electric scooter lock. With our connected app and custom GPS tracking system, you'll always know where your scooter is. 
Custom made Äike parts cannot be sold for spares
The Äike team has complete control over the production process. Everything from hardware to electronics is custom made and unfamiliar to outsiders.
This is why we're baffled – the scooter will be unusable for third parties. Nothing to do with it after the theft, but they still went through a whole lot of trouble… Luckily, the guest house had cameras there, so when we find the thieves, we can ask them the reason. 😉 
Our customer got a brand new Äike however, the very next day already. We wanted to act fast and offer a peace of mind service, validating that we'll be here in unexpected situations like this. 

Simple steps to follow if Äike goes missing
1. Try to look for it. You can track your Äike easily from the app, thanks to our GPS tracking system you'll probably find it sooner than we will, because:
The loud burglar alarm goes off if someone tries to move the scooter without your permission. 

The wheels will automatically block while being moved without permission.

It's also heavy. It's not like you can hide it under a jacket and run away.
2. Let us know through customer support what has happened. Most privately owned scooters don't have customer support after the purchase, but we're here for the keeps. We can help you out with looking for the stolen scooter or proceeding to get a new one.
3. Try to do everything in your power to find it. You can also file a police report in your local police station. If still no luck with finding Äike, you can simply get a new one from us, thanks to our 1-year theft insurance policy all Äike owners will receive upon purchase. All you have to do is pay a 100€ own responsibility fee and a brand new Äike scooter will be on your way!
4. When you've received your new Äike, we will permanently disable the old one, so that it will simply be unusable and useless to be sold for spare parts.
If you're still not sure what all that fuss with Äike is about, you should probably book an Äike test ride and find out for yourself. No riding fee, only riding joy!