Äike Electric Scooter Winter Maintenance Guide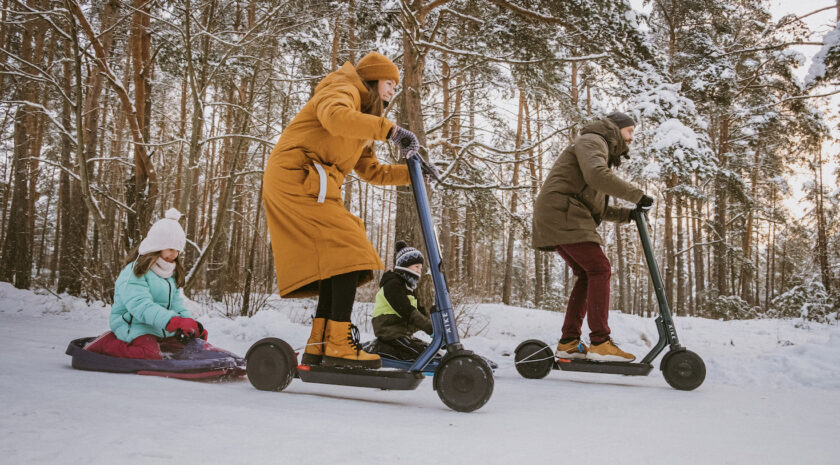 Summer is the electric scooter rider's favourite time of the year. We could say the same for autumn and spring, but what happens when winter comes and cold, slippery chunks of snow coat the roads that used to be dry and smooth?
Äike, built to withstand temperatures as low as -17 degrees Celsius, proves to be a reliable companion even in the chilliest months. However, a little extra care for your electric scooter can go a long way in ensuring a seamless winter riding experience. Here are some essential tips to make the most of your Äike e-scooter during the winter season:
Check if your Äike's Firmware is up to date from the settings.
PS! Generation 1 scooters will lose cellular connectivity, if not updated before end of 2023.
1. Safe Commuting
Winter roads demand a more cautious approach. Much like when running around or driving a car, slow down and avoid abrupt turns, especially on slippery surfaces. Pay close attention to traffic conditions, and always wear your helmet and reflector. Remember to stick to bike paths whenever possible, and when crossing roads or navigating through snow heaps, dismount and push the scooter by your side. 
When the temperature drops below +4°C, Äike will automatically limit its power to 70%, to ensure the safety of the rider. Consider activating the ECO mode, which limits the power to 50%, for an additional layer of protection. 
Pro tip: Don't forget a warm pair of ski gloves!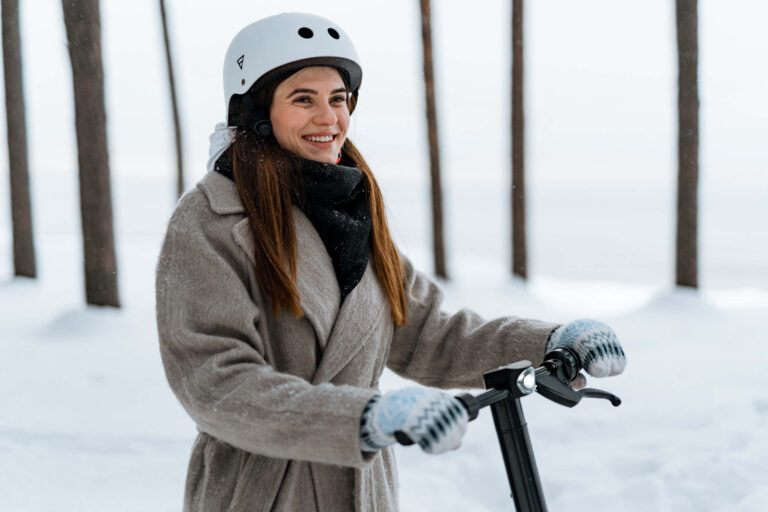 2. Salt Problem
You know what is a real pain during winter? Yes, you guessed it. Salt! After a muddy winter ride on Äike, take the time to clean it. No need to invest in any fancy equipment, an old brush, a bucket of warm water and soap will do the trick!
While Äike is designed with rust-resistant parts, some parts are still sensitive to salt on the muddy streets and regular cleaning can prevent the salt buildup. If you ride frequently, a weekly wipe-down is recommended. Avoid exposing the wet scooter to freezing temperatures, as this can lead to the freezing of moving parts.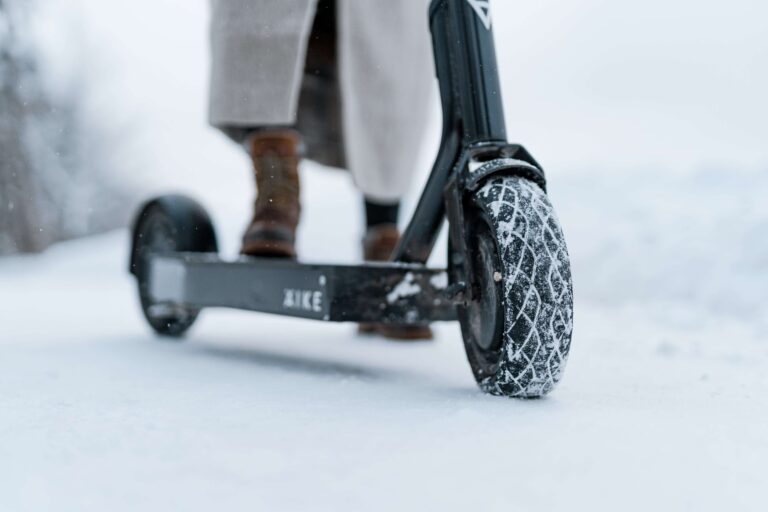 3. Battery Charging

Here's the thing: batteries are total babies when it comes to cold conditions. The colder it is, the moodier they get. That means your scooter won't function optimally during the cold and it is best to prioritise charging. 
The Äike e-scooter can travel up to 40 km on a single charge during the warmer seasons, but it may most likely only reach 25 km in the icy season. So always start with a fully charged battery, as you don't want it to give up on you midway.
Make sure to remove the battery and store it indoors when not in use, allowing it to warm up before charging. Äike batteries can only be charged when their temperature is between +4°C and +45°C. Taking care of the batteries will ensure a better riding experience, safety and also increase battery lifespan.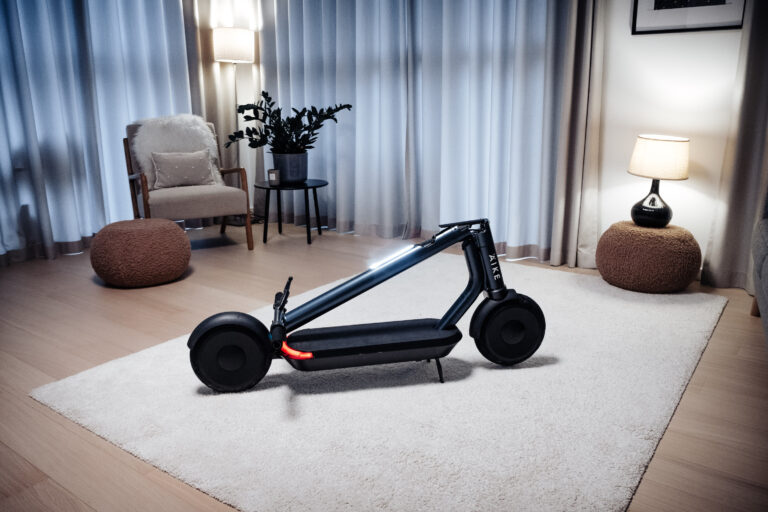 4. Winter Hibernation & Storage

If you plan to give your Äike a winter break, turn it off completely to prevent potential damage from cold temperatures. Here's how to do it …
Make sure to wash off any dirt and salt with water and soap.

Inflate the tires of your scooter to a recommended pressure of 2.5 – 3.0 bar
Check if your Äike's firmware is up to date. PS! Generation 1 scooters will lose cellular connectivity, if not updated before end of 2023.
Keep your scooter within a cellular coverage and batteries inside overnight to receive the latest firmware updates

Fully charge the batteries before storing your e-scooter

at a temperature of +5 C to +25 C.

Leave the battery door of the scooter open (otherwise you may not be able to open the door again without mechanical interference later on)

Äike IoT updates its server information every 12 hours and lasts for about 3 weeks on its own without batteries.

Periodic charging is recommended for theft protection and GPS data synchronisation.

Theft protection is active for at least 1 month, if the scooter is fully charged and the batteries are left in.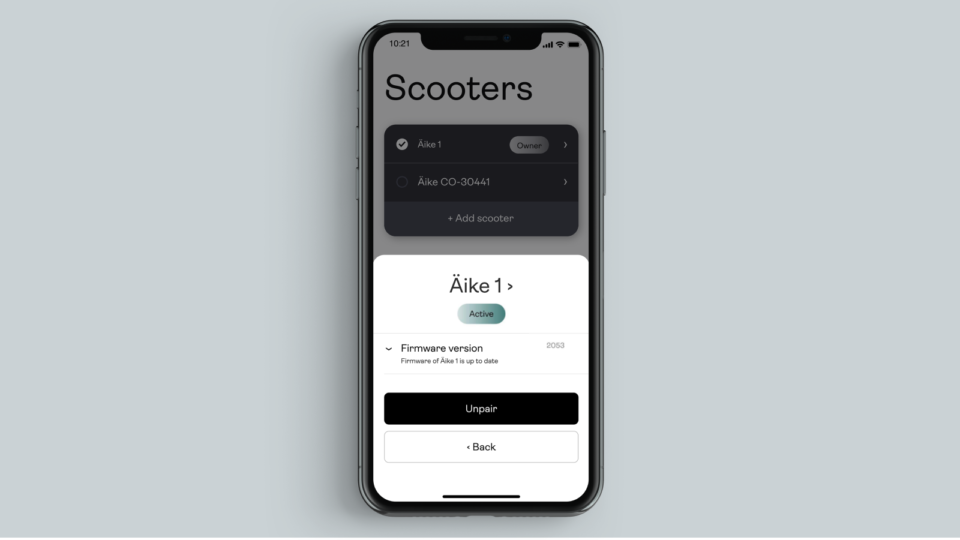 Äike Electric Scooter & Winter Sports
Contrary to concerns, Äike electric scooters are robust enough to handle winter sports enthusiasts. The scooter is designed to protect itself, ensuring the well-being of both the batteries and the motor. While colder temperatures may slightly reduce battery life, it has minimal impact on overall battery health. So, gear up, embrace the winter wonderland, and enjoy a snowy ride with Äike!