Bike vs. Scooter: The Big Comparison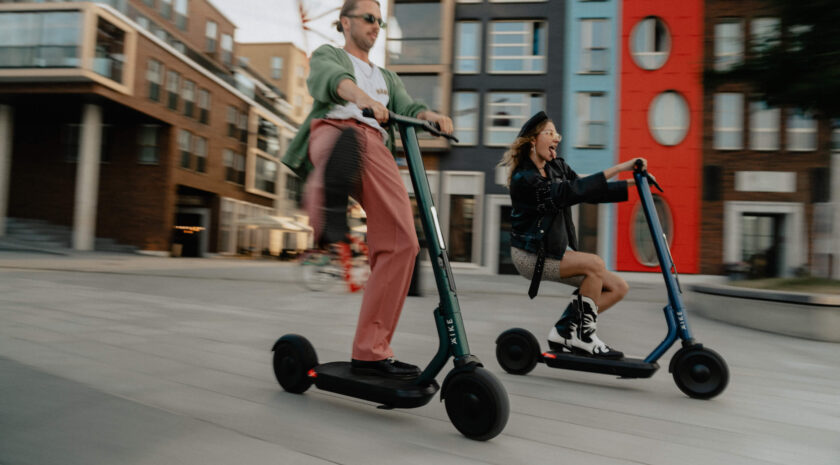 Bike vs scooter? That is the question. More and more people choose scooters as their preferred mode of transportation on their daily commute, and the popularity has been rising steadily over the last few years. At the same time, cycling has been ubiquitous in many European countries for several decades, and even the number of people cycling to work has held up strongly. 
We want to take a closer look at the advantages of riding a bike or scooter in our comprehensive comparison. We will take different criteria into consideration to help you decide between the two. This comparison is perfect for anyone looking to purchase a new two-wheeler for everyday needs. 
Criteria on How to Choose Between Bike vs. Scooter
We will look at a variety of factors to give you an educated answer to the question: 'What mode of transportation is better? Electric scooter vs. bikes'. Our criteria include important points such as safety, comfort, the environment, accessibility, and pricing. 

Accessibility of Bike vs. Scooter
Looking at the weight of a scooter and a bike, you will notice that most scooters tend to be lighter than bikes. Scooters also have another advantage: They can fit into small lanes and are extremely versatile. 
Furthermore, a scooter is easier to maneuver and is an excellent option for people commuting to work. After riding your scooter, you can even take it on the train as most of them are easily foldable. This is an important point to consider, especially if you live in a city with packed trains during rush hour. 
Comfort of Scooters and Bikes 
Finding a bike with the correct height of the handlebars and seat can be quite a challenge, and most biking buffs own several bikes to compensate for that. Buying more than one bike can really drain your wallet and is not a feasible option for most of us. Adjusting handlebars and seats is a bothersome task and can take up a lot of time. If the height is not adjusted accordingly, it can cause neck and back pain. 
On a scooter, you can stand upright and don't need to hunch over at all. Ergonomically speaking, a scooter performs better than a bike and riding it is less damaging to your back. It also gives you a great opportunity to change your posture after a long day at the office, as most jobs nowadays are sedentary. Although a bike might have better aerodynamics and give you a better workout, a scooter will be more comfortable on your long commute. 
Last but not least
: On a scooter, you will never have to complain about saddle sores because it doesn't have any uncomfortable saddle that might hurt your glutes. 

Price
A major concern for most commuters is the price of their new vehicle of choice. We have great news for anyone living on a tight budget: Scooters are in most cases more affordable than bikes. 
Another point to consider is the price of maintenance. A scooter is way easier and cheaper to maintain than a bike. Tires and gears of bikes need to be regularly checked, you can easily save those costs by riding a scooter instead. 
What About the Environment? 
Although both options are good for the environment, scooters win this battle if we take a closer look at energy saving. E-scooters can use energy more efficiently than bikes, so it takes less to run them. For those of you who are really eco-conscious: You can opt for a kick scooter which is manually operated or an electric scooter with a removable battery. Scooters also have an extraordinary long lifespan if they are made from high-quality materials. 
"In fact, e-scooters are so efficient, a human would burn about nine times as much energy walking and about four times as much energy bicycling the same distance," the Wired.

Bike or Scooter: How Do They Compare in Terms of Road Safety?
To give you an idea on how safe scooters are, we will take a look at some official statistics. According to the National Assembly of Estonia, scooters are statistically the safest mode of transportation with zero casualties in 2021. 
Speed of Bike vs. Scooter 
If you are looking for a speedy way to get to your office, a bike might be the better option for you because of its higher mechanical capabilities. However, the infrastructure for bikes is not always adequate and riding on the sidewalk can be punishable with a penalty in some countries. A more convenient option would be to hop on your scooter to ride past congested roads. 
Bike vs. Scooter: Who Wins? 
After examining a wide range of criteria, we can confidently say that scooters have a clear advantage over bikes. Commuting to work on a scooter gives you a feeling of freedom as you overtake cars stuck in traffic or exhausted cyclists. Scooters are not only a clear winner when it comes to eco-friendliness, but also contribute to road safety and comfort. If you are still on the fence between bikes and scooters, we highly recommend you to try out a scooter, and you will surely not regret it. 

Äike: High-End Scooter for Your Everyday Needs
If you are looking for a sturdy scooter with an exceptionally long lifespan, then you've come to the right place! Äike is providing electric scooters with an unbreakable steel and aluminum frame, perfect for your everyday commute or to run errands. We make scooters with large wheels, so you can ride it on multiple terrains and in different weather conditions. 
On top of that, Äike is the world's greenest electric scooter brand. 42% of materials we use are recycled and we even offer to take back old scooters in order to recycle them. Our factories are powered by renewable energy and most of the materials come from neighboring countries to ensure shorter transport routes.