How To Run A Profitable Scooter-Sharing Business?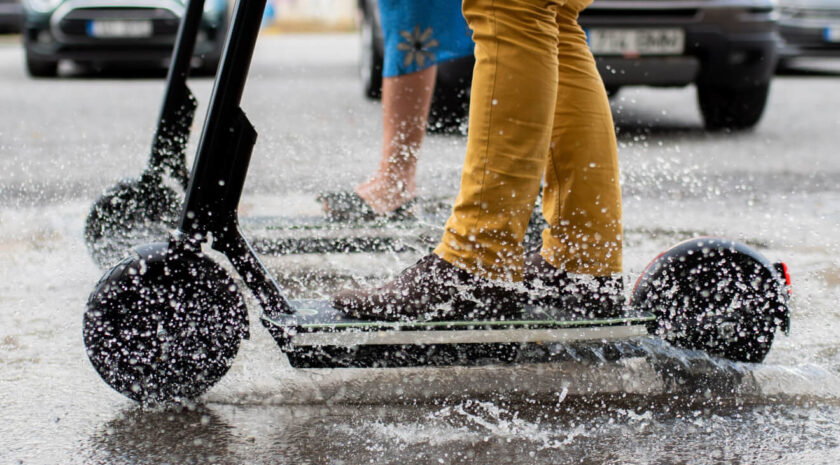 On January 27th, our parent company Comodule hosted a webinar focusing on shared mobility. While the scooter-sharing industry is maturing, businesses in this sector are actively looking for ways to run their fleet more effectively.
We asked industry experts to discuss how scooter-sharing operators can improve their profitability and how to grow their business in a sustainable way. The speakers in the panel were: Rivo Riistop, Senior Sales Manager at Äike Business; Augustin Friedel, Industry Expert; Vince Cifani, Founder of Joyride; Jaan Kekišev, Head of Tuul fleet; Mats Kristiansen, Co-Founder of Surf fleet.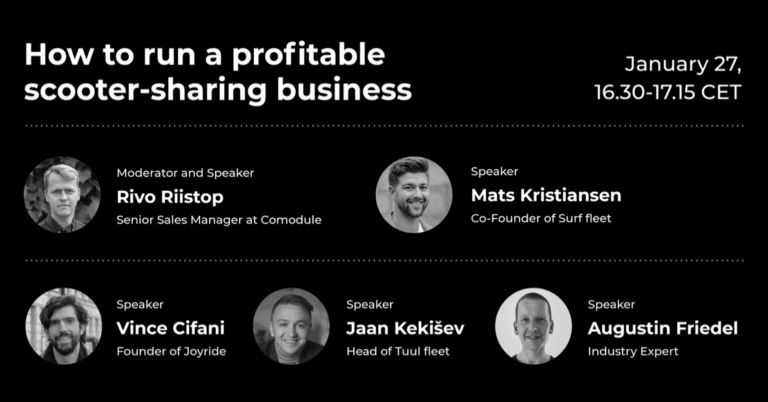 The Current Micromobility Market Trends
According to Augustin Friedel, the leverages for a profitable scooter business can be divided into three sections: technology selection, city selection, and optimized operations. The technology selection should include good software & connectivity solution and a stable supply chain, city selection depends on the relations with the local government in addition to the local regulations & infrastructure. Lastly, optimizing the fleet operations should help to keep the costs down.
Ultimately, Augustin said that there is room for market expansion when looking at the current shared (e)-bike industry. But the software & connectivity integrations used on e-bikes today have certainly helped to upgrade vehicles and riding experience.
How To Choose The Best Electric Scooter For Your Scooter-Sharing Business?
Rivo from Äike Business explained that since Comodule has had a lot of experience in connecting light electric vehicles with IoT, the main issue that keeps coming up is always the same – the IoT outlives the vehicle. So, to keep the riders on your fleet, it is important to choose a durable and sustainable bike or scooter. Otherwise, vehicle sharing could not become profitable at all, due to the fact that too much money will be poured into maintenance, eventually drowning all your resources.
What To Look For When Choosing A Fleet Scooter?
Riding comfort = crosses every bump in the road easily

Theft protection = secure your asset

Lifetime value = longevity & cost

Maintenance & support = ease of repair with minimum downtime

Weatherproofed = always ready to go, no matter the conditions

Differentiator = your scooter is chosen over the competition
Read more about how to choose the best e-scooter for your fleet here. To prove that Äike fleet scooter might be the solution to unlocking the profitability for sharing fleets, a test vehicle will be sent to fleets who contact directly.

Is Software Needed To Run A Shared Mobility Business?
The Founder of Joyride, Vince Cifani brought in some valuable insight about using software tools in micromobility. He concluded that software is not a necessity for the industry, but can certainly boost the industry. By now, it is also the backbone of every successful use case. He pointed out that a full software system allows operators to:
Enable fleet management staff to rebalance vehicles more efficiently

Eliminate the need to hire in-house developers

Minimize vehicle maintenance cost and time through active monitoring
What Is The Main Factor Affecting Scooter-Sharing Business Profitability?
The participants got a chance to share their opinion on what they consider to be the main factor that affects sharing fleets' profitability. The options to choose from were: efficient operations, the right vehicle, software, branding, climate, competition, or public relations. Nearly half (49% to be precise) of the people who answered thought that the main factor is having efficient operations.
Insights From Fleet Operators
Jaan Kekišev, Head of Tuul fleet, and Mats Kristiansen, Co-Founder of Surf fleet, shared their story on staying profitable, learning to cope with the constantly changing city regulations, and what are the biggest challenges in managing their fleet operations smoothly.
Answering Your Questions
During the panel discussion, we answered as many questions as possible but there were some interesting questions from the audience left uncovered. We've put the answer down in writing:
How has the pandemic affected the scooter sharing business?

Augustin: After the first panic, shared e-scooter and micro mobility continued with positive development. Operators raised more funding, with Helbiz and Bird two players are now listed on the stock market. Operators like Dott, Lime or Tier report an increase in rides and an increase in trip distance. Infrastructure changes with more bike lanes and dedicated parking spots also with positive impact.
There are a lot of innovations with AI that are making its way into the micromobility industry. What trends do you think will take off and be adopted permanently?

Augustin: Not clear as of today. In general, AI solutions that would improve safety of riders, pedestrians, etc. or increase convenience for users could be adopted permanently. At the moment it's also often seen as part of the public policy playbook to add AI solutions.
How important is location accuracy on the software level? We know the importance of vehicle positioning, but how important would you say user positioning is, especially when looking at Geofencing and things like that?

Vince: Location accuracy is crucial to Joyride and our operators. We use the location based on the data shared by the IoT, which makes selecting an IoT partner really important. For user positioning, Joyride will rely on the location positioning from the rider's mobile phone. If a rider's location is accurate, then it allows Joyride to provide even better functionality around geofencing, and other powerful location-based features, such as advertising and promotions tied in with nearby businesses.
Is sharing system available out of middle or large cities? I mean touristic sea villages or group of villages.

Vince: It is a common misconception that sharing systems are only available for large operators that focus on city centers and mid-sized metropolitan areas, but there are so many opportunities in smaller towns, coastal cities, hotels, campuses…you name it! Our operators range in their types of business models, target market and geographies. The possibilities are endless with a strong software partner that takes on a holistic approach like Joyride. We can support you when it comes to software, but also as it relates to vehicle purchases, consulting, insurance, financing, RFP writing and more.
At what level would be the integration between Comodule and Joyride for example? Comodule Hardware and firmware + Joyride SaaS?

Vince: Joyride software integrates directly with Comodule IoT, which allows operators to interact with their vehicles directly from the Joyride dashboard and API. For example, when you buy a vehicle with a Comodule IoT, everything will seamlessly be connected to Joyride when they arrive at your door.
How to win tenders that are already made for a particular operator?

Jaan: I suggest creating strong relationships with the government. Have active communication with them to get info as early as possible about any upcoming tenders. When a tender is announced, then consult the legislator about fair conditions.

What will the future hold for shared mobility according to the panelists? Take a closer look at the webinar recording and find out. The recording is available HERE.