These Are the Best 4 Electric Scooters That Are Foldable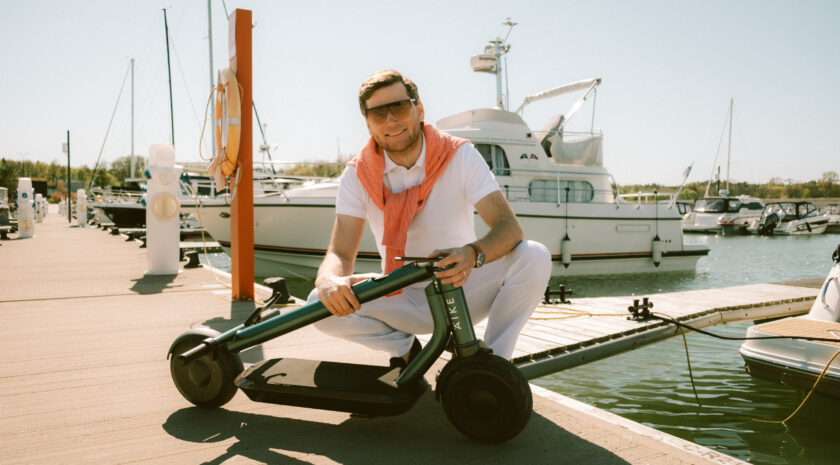 Imagine that you're running late for work, and you need to rush to your bus stop to catch the next bus to your destination. You get on your electric scooter and zap to the bus terminal in a few minutes. If your electric scooter is foldable, you can just fold it up, take it into the bus, unfold it later when you alight, and continue scootering to your destination. 
This ease of portability is the reason most modern scooter manufacturers have made some of their electric scooters foldable. This way, you can cover short distances, and carry your device along with you or just throw it into the trunk of your car pending on the next time you'd need to use it. 
If you're looking to buy a foldable electric scooter, but you don't know how to choose or which one to go for, this article will guide you on how to make the right choice. We will also make some expert recommendations that'll make it easier for you. 
Why Buy Electric Scooters That Are Foldable?
There are many benefits of buying a folding electric scooter over one that isn't foldable. Some of them include:
Portability:

This is obviously the most important benefit that comes with buying a foldable electric scooter. You can carry it along into your office, class or anywhere; you can throw it into the trunk of your car, and you can just carry it along when walking in a path where you can't ride it.

Storage:

Folding electric scooters makes them easy to store. They become compact and only occupy a little space. Hence, you can just store them in your closet, under your table, or in any small compartment. 

Security:

If you use a bike or motorcycle, you will eventually park it at a designated spot when you reach your destination. This may put it at the

risk of theft

when you're not watching it. But this risk is almost non-existent with foldable scooters. This is because you can take them with you to anywhere instead of leaving them in a parking space.

Versatility:

Due to their compact and portable nature, you can use these micromobility devices in a variety of environments including city streets, bike paths and parks. This versatility also stems from their lightweight nature, which makes them easy to navigate and manoeuvre.
What Are the Best Foldable Lightweight Scooters?
Lightweight rides are best for everyday use. Here are some of the best models you should consider.
Uscooters Booster GT Drum
Uscooters Booster GT broke into the market with a smart Bluetooth connectivity that differentiates it from similar products. It is built with a 46.8V 10.2AH lithium-ion battery and a 700W motor. This lightweight electric commuter has an excellent braking system, which includes a rear drum brake and a regenerative front brake. It weighs only about 28.7 lbs (ca. 13 kg), and with just a single charge and depending on the model you pick, this device can reach a range of 21 miles (ca. 34 km) to 31 miles (ca. 50 km) with a top speed of 20 mph (ca. 32 km/h) to 26 mph (ca. 42 km/h). 

Pros
Long range

Can climb hills

Very compact
Cons
Battery life may be inaccurate

Weak folding system

Tires aren't so durable 

Ride can be unstable at low speeds

Small / weak rear lights
Äike T 
Äike T is the world's most connected scooter. Built with Internet of Things (IoT) functionality and ride optimisation feature, Äike T provides the best value for money if you're looking to buy a foldable scooter. 
The Äike T is equipped with a 1,000W motor that can expand a 25 mile (ca. 40 km) range on a single charge at a max speed of around 16 mph (ca. 25 km/h). Another factor that makes this product the perfect choice is that apart from its original charger, you can also charge it with your phone's USB-C charger. 
Furthermore, this fold-up electric scooter weighs only 19 kg (41.8 lbs), so it is the perfect foldable electric scooter you can take with you at any time.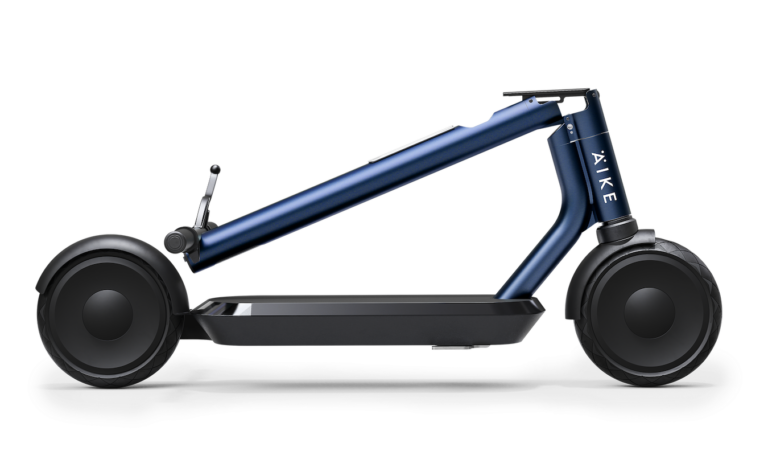 Pros
Lightweight 

GPS tracking

Supports USB-C charging

Wide and sturdy deck

Short braking distance

Easy

to fix

Double braking system for extra safety
Cons
No suspension but the

tubeless pneumatic tires do the work
What Are the Best Foldable Heavy-duty Scooters?
Heavy-duty scooters are designed for heavier adults who may not be able to ride on the lightweight variants. The products in this category must have powerful motors and batteries to be able to do the work of conveying people who weigh as high as 100 kg and above. An example is the Dualtron Storm. 
Dualtron Storm
The Dualtron Storm is one of the best foldable heavy-duty scooters for many reasons. First, its dual motor gives off 11,500W of power with a range of up to 200 km and a maximum speed of 100 km/h. Furthermore, it can carry a load of up to 150 kg, so it's ideal forheavier adults who also want to enjoy this fun side of life.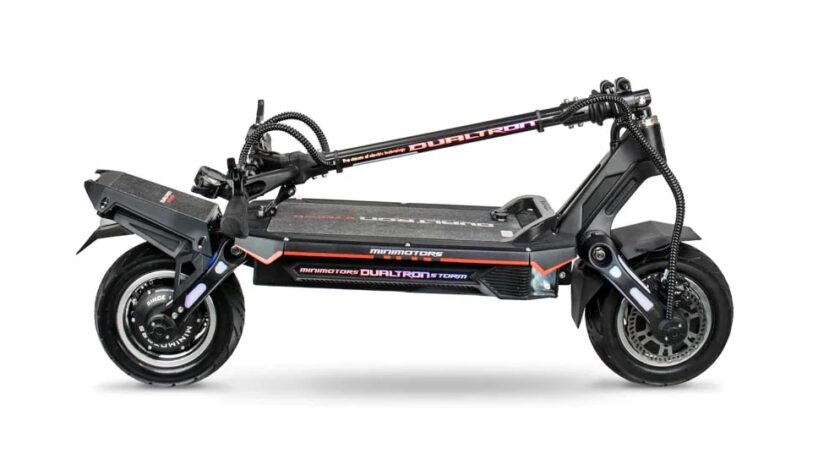 Pros
Incredible range 

Powerful removable batteries

The Folding system has double tightening rings for a more durable folding system and better stability
Cons
Weighs 111 lbs (50.5 kg)

Not portable

Long charging time
What Are the Best Foldable Off-road Scooters?
Off-road scooters are designed to drive on rough terrains like bumpy roads, construction sites, farms, hills and rocky roads. One of the best off-road scooters in this category is the Outstorm Maxx.
Outstorm Maxx
The Outstorm Maxx gives you the freedom to roam on any kind of road, puddle, snow or rocky path. Its pneumatic off-road tires are equipped to take on the most rugged surfaces, and the 3,200W dual motor provides the power to undertake your adventurous rides. 
The max speed is 56 mph (ca. 90 km/h), and a single charge takes you as far as 53 miles (ca. 85 km).

Pros
Strong, wide tires 

Comes with 2 power adapter chargers

Comes with 2 spare brake pads

Has a Cruise control mode
Cons
Features You Should Consider When Buying Foldable Electric Scooters
Consider the weight


If you don't live in a rocky neighbourhood, and you don't need a micromobility device to ride around a farm or construction site, then you should pay more attention to lightweight devices. The main reason why manufacturers began to make electric scooters foldable is to allow users to carry their rides along, and store them with ease. Because of this, weight is one of the most essential factors you need to consider when buying a foldable electric scooter. 

Range is Important


Your micromobility device should be able to cover a reasonable distance before it runs out of power. Hence, always ensure that while the device is easy to carry around, it can also take you a long distance before you charge again. 

Powerful Brakes


You should also ensure that your device has powerful brakes. A scooter like the

Äike T

has a double braking system with a great braking time. This feature ensures your safety. 
Conclusion: The Best Electric Scooters That Are Foldable
Buying a foldable electric scooter allows you to easily carry your ride along when it's not in use. It also protects you from the risk of theft, which may happen if you leave your device outside in a garage or parking space. In this article, we have reviewed some excellent foldable scooter brands you should consider, and also shared helpful tips that you'd need to make a wise purchase decision.