Types of Scooters: Differences Explained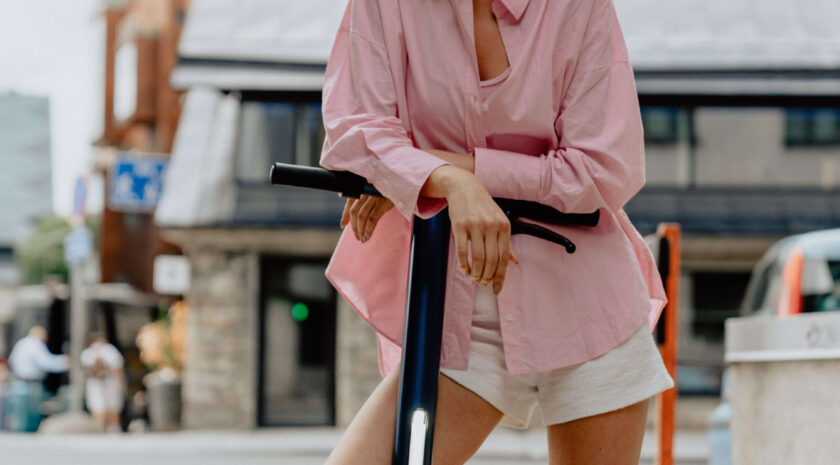 If you're looking for an alternative way of moving around, there are many types of scooters that could serve as a means of transportation. From the traditional kick scooters to the more modernized electric scooters, there's a scooter revolution sweeping across the world right now. 
People have realized that scooters could be a solution to pollution, a good way of staying active, and an overall fun activity. These are some of the reasons why the market is booming with people demanding different types of scooters. 
In this article, we will highlight the different kinds of scooters, so you can choose the one that best suits your needs and lifestyle. 
Different Types of Scooters You Should Consider 
Scooters differ according to their size, engine type, wheel type, functionality and mode of operation. Below are 8 types of scooters you should consider.
Kick Scooters 
Kick scooters are the most common, most affordable and essentially manual and human-powered scooters. They are lightweight with two short wheelbases and, most times, made of aluminum. 
Kick scooters are suitable for children and teenagers who just want to play and have fun around the parks and neighborhood. Adults also use kick scooters for commuting on pavements and road sides. The downside of kick scooters, however, is that you can't pull stunts and tricks with them, and they're not suitable to ride on grass.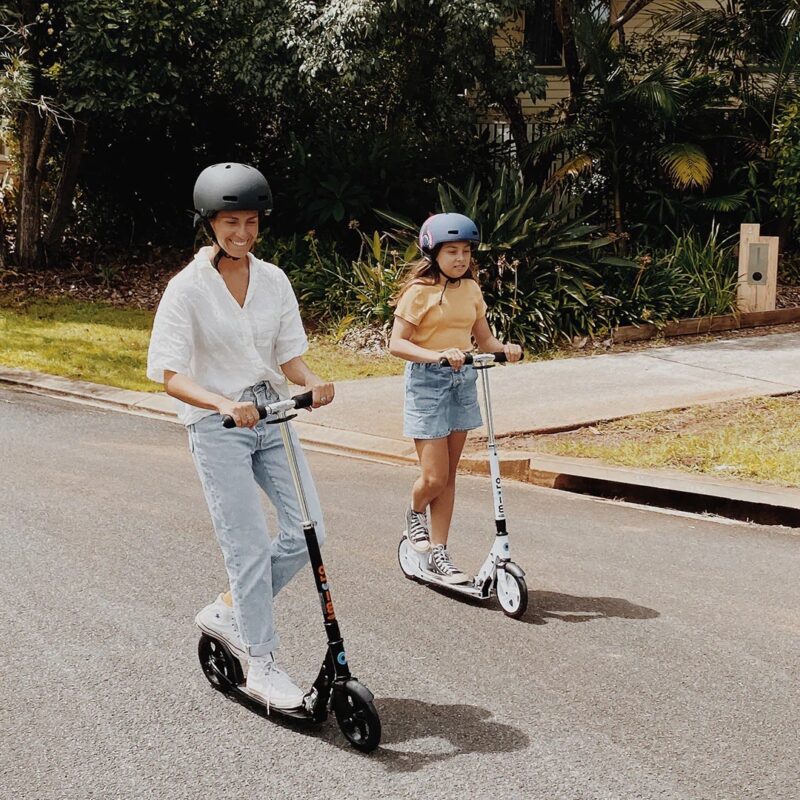 Three-Wheel Scooters 
Little children are not left out in the fun. 3-wheel scooters are specially made for little children between the ages of five and eight. These scooters usually have either two front wheels and one back wheel, or two back wheels and one in front. 
The extra wheel is designed to provide extra support as children learn to ride  the scooter. As they grow older, they can then advance to using other types of scooters. 
Fliker Scooters
The other scooters we've mentioned so far have one thing in common – you have to push them off with your foot. Fliker scooters don't need you to push them off. All you have to do is walk a bit, and then you can place your weight on the scooter. It may be quite tricky in the beginning, but after trying it a few times, it becomes a walk in the park. 
Many people argue that Fliker scooters aren't really a different type of scooter, considering that they are quite similar to kick scooters. But in truth, their mode of operation makes them stand out as a distinct kind of scooter for adults.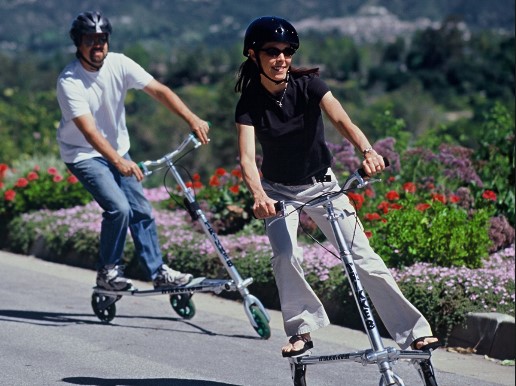 Space Scooters
Space scooters are a special type of scooters that belong somewhere between regular scooters and motorcycles. The glaring difference is that here, pedals are replaced with foot brakes. They have front suspension for increased control and stability. They also have wider decks and smaller wheels. You can ride space scooters on pavements and at the park.
Pro Scooters 
Pro scooters are essentially made for one purpose – stunts! If you're looking to join the "cool kids" who pull off amazing stunts and tricks with their scooters, then you need to buy a pro scooter. They are made with bigger wheels, wider decks and compression systems that confer increased stability, durability and control. 
This type is also called stunt scooters or trick scooters, and they're generally more expensive than simpler scooters. Be careful, though, because these scooters don't have brakes. So, you need to learn the tricks carefully before you start your fun ride.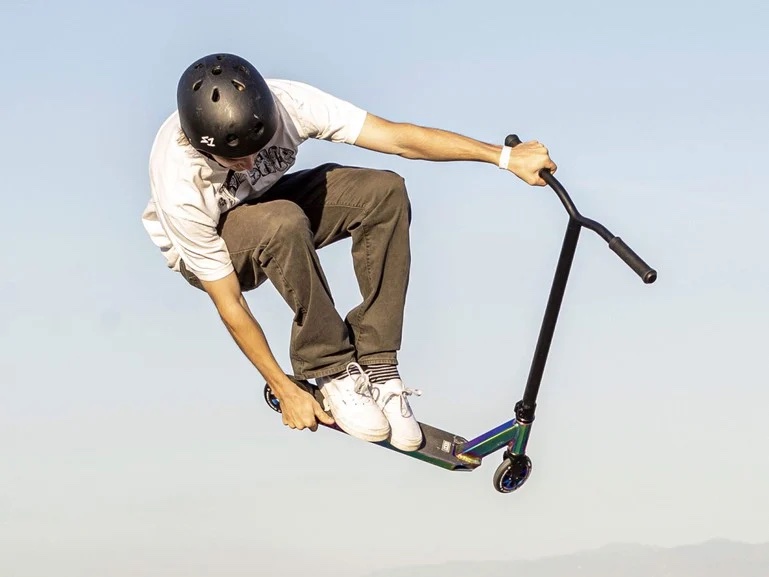 Dirt Scooters
Dirt scooters aren't your regular kind of scooters. They come with inflatable or pneumatic wheels suitable for riding on dirt, grass, rocky roads and even hills. The decks and forks are made of steel or aluminum, and they can be used to perform some tricks on rough surfaces. 
Due to its ability to jump over bumps and small rocks, dirt scooters can be used for fun riding at the park. It is, however, important to note that this type of scooter is made with heavy materials, so they're slower than other light-weight scooters. 
Off-Road Scooters 
Off-road scooters have two large wheels with reinforced tires. They have a strong grip on the ground, and can maneuver through grass and dirt. Most of them are electric-powered, although a few belong to the kick scooter category. The sturdy nature of off-road scooters makes them ideal for cruising. 
Off-road scooters typically have wheels of 200 mm or larger. They are made of aluminum, so they're durable and relatively lightweight. These scooters move faster than other scooters with smaller wheels, but they're not suitable for stunts and tricks.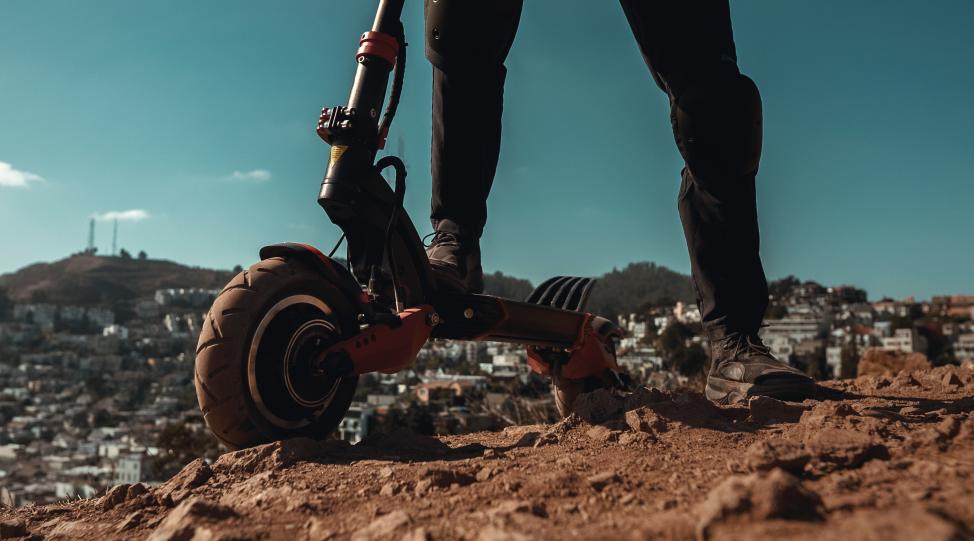 Electric Scooters 
Electric scooters are currently the bestselling kind of scooters all over the world. They're powered by an engine that works with an electric motor and rechargeable battery. High quality electric scooters like Äike have a smart braking system that makes them safe for commuting around busy neighborhoods. Electric scooters are, however, not ideal for heavy tricks and stunts.
There are three basic types of electric scooters, namely: 
self-balancing e-scooters,

electric kick scooters,

electric mopeds.
Äike: Electric Scooters Perfect for Commuting
Äike electric scooters are the first electric scooters produced and assembled in Europe. They are made from sustainable and recyclable materials, hence they're completely eco-friendly. This new brand of electric scooters has a speed of 25 km/h and, when fully charged, can travel up to 40 km. Äike electric scooters are lightweight, weatherproof and designed to guarantee safe commute even in winter.
They come with properly reinforced wide decks that can carry up to 150 kg of weight. So, even plus-sized people can benefit from this world-class e-scooter. The accompanying app helps you to lock, unlock and control your e-scooter, and there's also a dock mounted near the handle for you to keep your phone.
Conclusion 
Scooters are becoming increasingly popular among people of all ages. There are many types of scooters in the market, but Äike makes the best quality kind of electric scooter that combines efficiency and elegance to give the best cruising experience. Check out our collection, and pre-order the Äike T e-scooter.