Electric Scooter Accidents: What Statistics Tell Us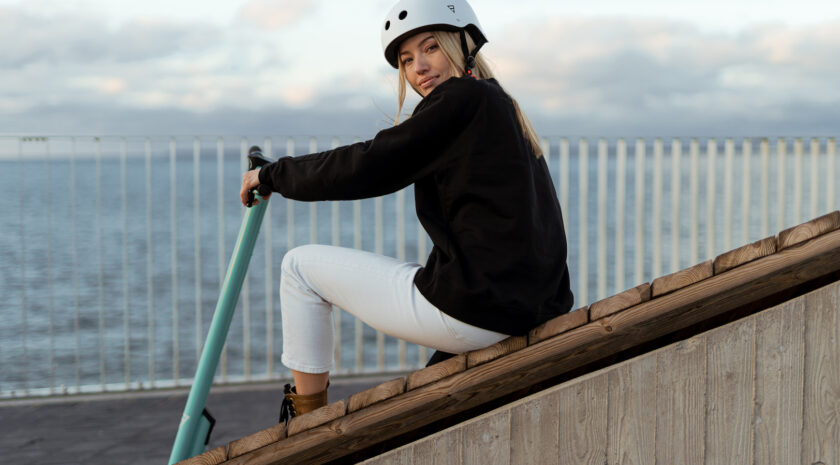 Electric Scooters have surged in popularity since the early 2020s. Their popularity has been primarily due to the increased campaign for the reduction of the emission of greenhouse gases. E-scooters are lightweight, eco-friendly, sustainable and easy to use. They have provided a fun and healthy way of commuting around short distances and traffic-laden cities; however, electric scooter accidents have also become commonplace and are often talked about. 
According to EurekAlert, the rate of electric scooter accidents and hospitalization increased by 222% from 2014 to 2018. The CDC also studied the rate of e-scooter accidents. They concluded that 20 out of every 100,000 results in injuries of varying degrees. That notwithstanding, e-scooters are still one of the safest modes of transportation, especially when you compare electric scooter accident statistics to cars and motorbikes. 
This article will look at the statistics on electric scooter injuries and proffer solutions to ensure safe riding.
Statistics on Electric Scooter Accidents at a Glance
Lots of studies have presented statistics on electric scooter accidents in different countries. Though the data varies between studies, they all share the following similarities:
Considering the above stated electric scooter accident statistics, most e-scooter accidents are avoidable if riders follow simple preventive measures. Avoiding motorways, using appropriate helmets and staying away from alcohol can reduce the rate of scooter crashes.
Why Electric Scooters Are Still a Safe Way of Transportation
Statistics have shown that electric scooter accidents deal minor damage compared to motor and motorbike accidents —and plane crashes, which are the absolute worst. Car accidents result in approximately 1.3 million fatalities every year. Motorbikes, on the other hand, resulted in over 5,000 fatalities in 2020. Compared to all these, e-scooter accidents were minimal, and apart from collisions with cars, e-scooters could go all year without mishap.
E-scooters are statistically regarded as the safest means of transportation because of many reasons. Firstly, high-quality e-scooters like the Äike T scooter have smart brakes, thus making it easy for you to stop the scooter and jump off when there's danger. 
Another factor that contributes to the safety of e-scooters is their low speed. Cars and motorbikes travel at incredibly high speeds, while most electric scooters only ride to a maximum speed of 20 km/hr. If you ride at this speed or lower on a smooth paved way, there are minimal chances that you'd get into an accident.
What Are Typical Injuries in Scooter Crashes?
Most electric scooter accidents involve falling off the scooter's deck. This could happen when you bump into a stone or deep pothole while driving at a high speed. In most cases, the falls are caused by car and motorbike collisions. 
Typical electric scooter accident injuries include upper and lower limb injuries, head injuries and neck injuries. The injuries' severity depends on the collision speed and if the rider took safety measures like wearing a helmet.
Causes of Electric Scooter Accidents
Statistics have shown three recurring factors responsible for most electric scooter accidents:
    Drunk driving,

    Driving e-scooters at night,

    Collision with cars.
 If you consider the causes, you'd realize that these accidents are avoidable if riders choose to drive responsibly. Alcohol reduces cognizance, composure and focus, so you should avoid driving an e-scooter—just like a car— whenever you drink. You should also know that e-scooters are not optimized for night driving. They do not have the bright headlamps and halogen bulbs of automobiles, so don't drive your e-scooter at night.

Tips on How to Protect Yourself from Injuries When Riding a Scooter
Here are a few tips that'll help protect you from injuries when riding a scooter:
Ride on Bike Lanes or Roadsides
Your e-scooter may collide with on-coming cars when you ride in the center of the road. To avoid this, only ride your scooter by the side of the road or on bike lanes.  This way, you will avoid colliding with cars or hitting pedestrians. 
Avoid Bumpy Roads
Statistics show that many e-scooter accidents happen when people ride on rough surfaces. To protect yourself from electric scooter injuries, ride only on smooth surfaces.
Don't Overspeed
Overspeeding is dangerous for all road users. So, it is necessary to apply caution and drive slowly enough to avoid getting into an accident.
Always Wear a Helmet
Full-face helmets provide the best protection from injuries. They cover the head, face, neck and jaw. The best way to avoid scooter injuries is to wear helmets whenever you drive your e-scooter.
Choose a Safe Scooter – Like Äike T
 When choosing an electric scooter, it is best to choose one that is optimized for your safety. Äike T electric scooter has intelligent automatic braking and speed-control features to guarantee your safety. It has a display screen, which monitors your speed, so you don't exceed the average when driving. 
We understand the need for stability and balance, so we built the Äike T with an expansive standing deck and sturdy materials. It has an extra layer of reinforcement that keeps you going even if you hit a curb from time to time. The two-fold braking system (electrical and mechanical brakes) of the Äike T also allows you to remain in control when driving in the snow or puddles.
In all, the Äike T is your best bet if you want to avoid electric scooter accidents. Every part of the Äike T was built with your safety in mind, from the handles to the tires. Pre-order the new Äike T now with a refundable €69 to enjoy the safest kind of e-scooter ride already this year.