How to Ride an Electric Scooter: Tips and Tricks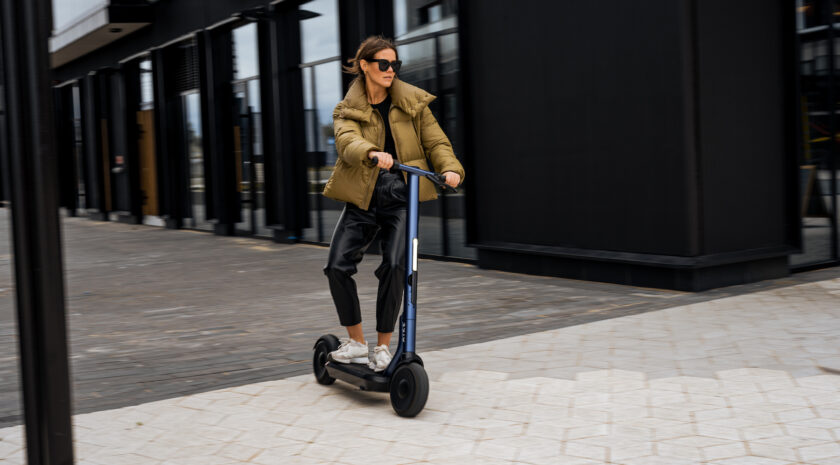 If you live in a busy city, and you know how to ride an electric scooter, then your transportation problems have been reduced drastically. This is because riding scooters helps you maneuver through traffic laden roads and small spaces, so you can get to your destination easily.
Despite how easy it looks, riding scooters takes more than just getting on top of the deck and zooming off. For optimal safety, you have to really take the time to learn how to ride an electric scooter. This electric scooter guide will teach you all you need to know about safe scooter riding.
Before You Start Your Ride
Learning how to ride an electric scooter safely starts with knowing the things to look out for before you start your scooter ride. Apart from checking the essential parts of your scooter, there are some tricks you should have at your fingertips.
Always Wear Safety Gear
Safety must be your priority when riding your scooter. Though e-scooters aren't as fast as cars, accidents still happen and people end up with fatal injuries. To protect yourself from this kind of mishap, you must always put on a helmet before you start your ride.
Apart from wearing a helmet, you also need to get an elbow pad, knee pad and gloves. This safety gear protects your head, knee, elbow, and hands. You should also wear thick clothing so that your skin doesn't scrape against the paved ground if you fall from your ride.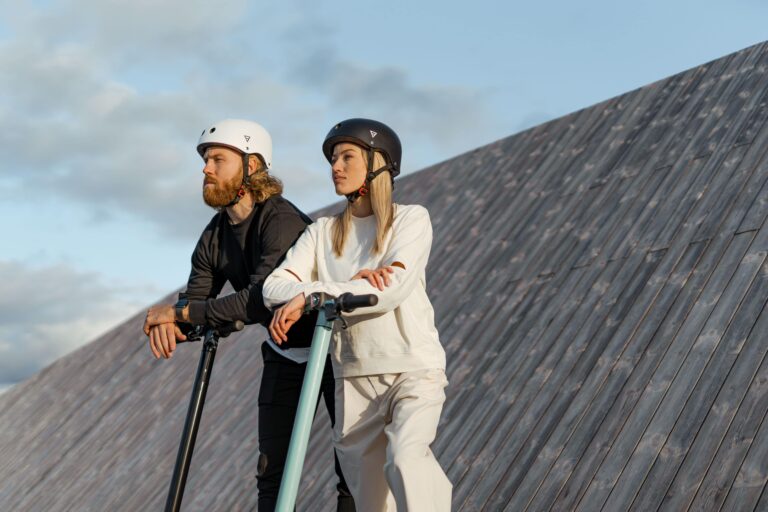 Test Your E-scooter
Whether it's a car or two-wheeled bike, there's one unwritten but universal rule that cuts across all automobile and micromobility devices. The rule states that you must familiarize yourself with the device before you start driving it. This also applies to e-scooters, kick scooters and all kinds of mopeds.
Learning how to ride an e-scooter starts with learning about the parts and control features. Identify and try out the power switch, brakes, lights, accelerator, horn, etc. If it's a new ride, study the user manual and follow the instructions as you go on a test ride.
If it's your first time riding one, it may be best to try riding it like a regular kick scooter without turning on the power. This way, you'll be able to also feel the brakes, throttle, steering and every other essential part.
Also check the fold mechanism to ensure that it works perfectly. Next, check the batteries. It is often ideal to charge the battery fully before you start using your electric scooter. Allowing your batteries to drain completely may reduce the lifespan of the e-scooter.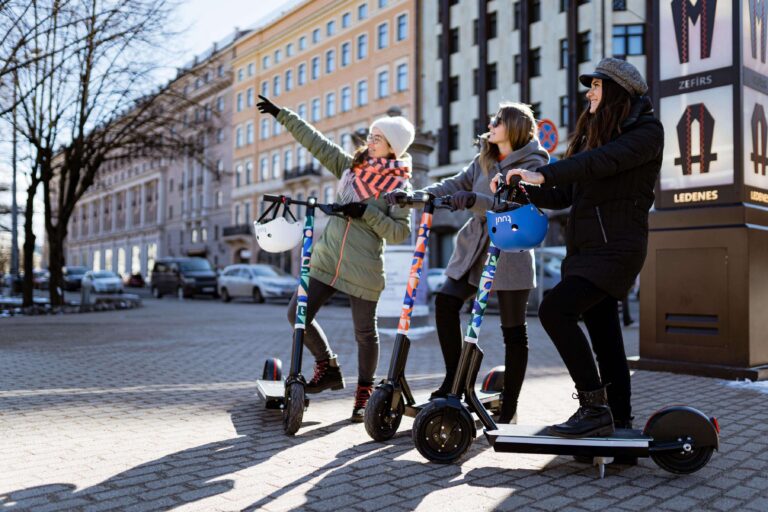 Find a Location to Practice
The best location to practice how to ride an e-scooter is an almost deserted, flat paved road or sidewalk. At this stage, you're still trying to get the hang of your micromobility device, so you don't need to deal with hills, rough paths, pedestrians and other obstacles.
When you start learning how to ride an e-scooter, you must not overspeed. Endeavor to go as slowly as possible. Hold the steering firmly and ensure that you're balanced on the deck. 
Step-by-step Guide: 
How to Ride an Electric Scooter
No matter how long you have used your scooter, it is ideal to always do a thorough check to ensure that all the parts are working properly. Here are some things you should check:
Check that the tires are inflated to the appropriate pressure.

Engage the brakes to ensure that they're functional.

Turn on the scooter and check for any weird or unusual sounds.

Check that the batteries are fully charged.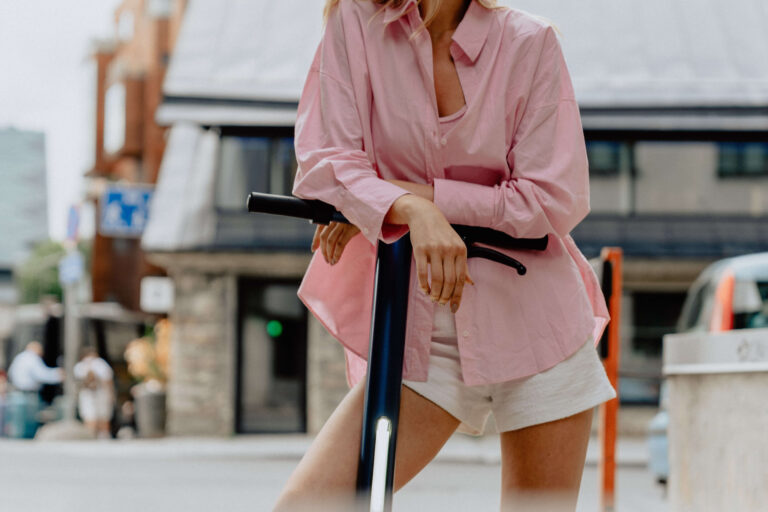 After you have done all these checks, it is time to start riding your scooter. Here's how to do it:
Place your scooter on a smooth surface, unfold it, hold the handles and unlock it from the app.

Next, place one foot on the deck and the other one on the floor. Now, launch it into motion by kicking off with the foot on the floor. If the scooter has a zero start, you don't need to kick-start it.

As the scooter sets into motion, place the second leg on the deck. Place one foot in front of the other on the deck, or 

place your feet side by side. 

To get the best balance, lean forward a little and place most of your weight on the foot in front.

Engage the throttle carefully and enjoy the ride. 

Make sure to keep your eyes on the road at all times and don't throttle too hard. Doing this could cause the scooter to jump forward or bump into an obstacle that it could easily glide over at slow speed.

When you want to turn, release the throttle gently, engage the brakes and about 50 metres before the turn, take your left hand off the handlebars and extend it to the desired direction of the turn. 

Be careful not to brake hard when taking a turn, as this could cause you to

crash.

To stop the scooter, hold the brakes and shift your weight backwards.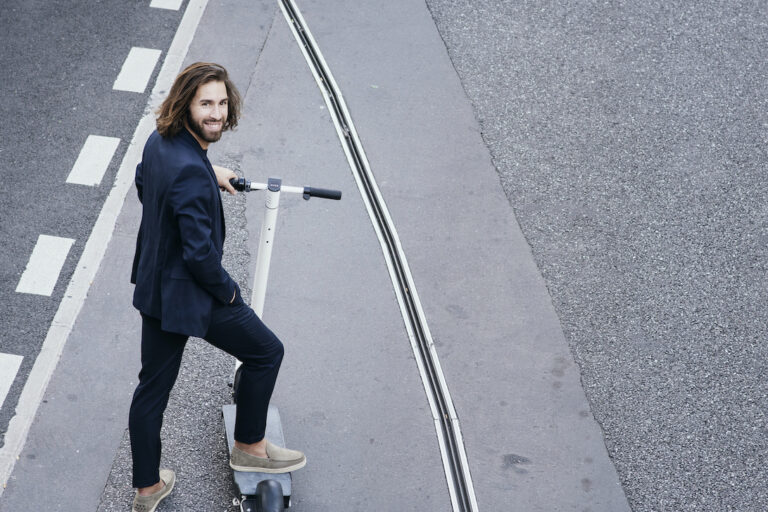 A Safe Ride Starts With a Safe E-scooter
Äike T scooters are built with a world-class safety setting that ensures ride optimization. It also has a double braking system to keep you from getting into fatal accidents. With their wide decks and reinforced pneumatic tires, you can rest assured that your balance can't be compromised.
The safety of every e-scooter rider depends on the quality of their scooter. Even if you've learned how to ride an e-scooter to the point of being an expert, you're still at risk if your scooter doesn't have high-tech safety settings. Buy the Äike T today for safety and a scootering experience that will last for a lifetime.