The Best 5 Children's Electric Scooters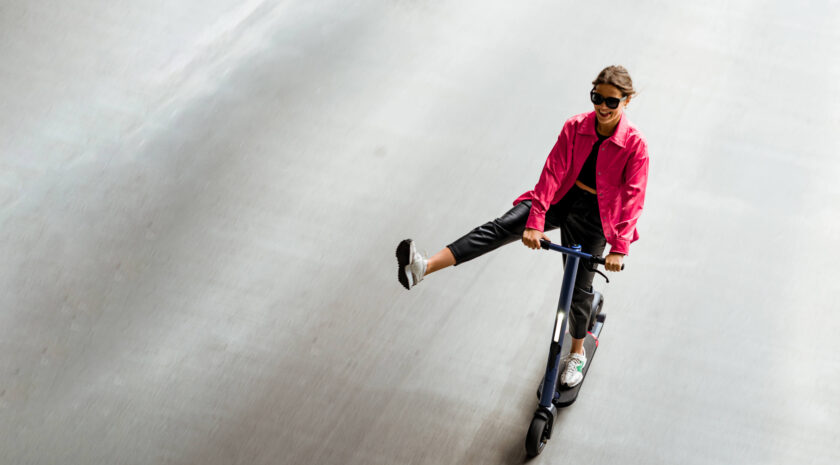 These days, some parents struggle to get their kids to go out and play because most children would rather stay indoors playing video games or watching TV, than go outside. But recently, the increasing popularity of children's electric scooters has once again made outdoor fun exciting for the young ones. 
Electric scooters are designed to give riders a fun experience, but not all of them are suitable for children. So, when looking for the best electric scooter for your kids, you must look out for those child-friendly features that would make them ideal for your kids. 
Some features to look out for when buying a children's electric scooter include: 
Extreme lightweight

Low maximum speed

Cruise control or ride optimization

Adjustable frame and handlebars
At What Age Can Children Ride Electric Scooters?
Many manufacturers who make scooters for kids recommend 8 years as the minimum age for using their product. At this age, the child must have developed enough motor and coordination skills to handle the micromobility gadget. A few manufacturers, however, have products designed for kids of as low as 6 and 3 years, but then, they're mostly kick-scooters and not regular electric scooters. 
What Should I Look Out for in a Children's Electric Scooter?
When shopping for scooters for kids, you need to pay attention to ensure that you don't buy the ones designed for adults. Speed is one of the most important features you shouldn't overlook. On average, adult scooters can zoom up to 15 mph (ca. 24 km/h) or even 20 mph (ca. 32 km/h), while a children's scooter shouldn't exceed a range of 7 mph (ca. 11 km/h) to 10 mph (ca. 16 km/h). 
You should also consider the weight of the device to ensure that your kids can carry them around with ease. Also consider your little one's weight, and ensure that the product is sturdy enough to bear it. Even if your child weighs less than the recommended maximum weight, it is essential to note that carrying a backpack may increase the overall weight on the vehicle. 
Also ensure that the product has smart brakes, good suspension and a well-balanced deck. While at it, ensure that you buy safety gear such as helmets, elbow pads and other protective equipment.
The Best Electric Scooters for Kids From 3 to 8
At the ages of 3 to 8, the ideal kids scooter to buy include:
Huffy Dragon Bubble Scooter 

This three-wheeled kiddies' scooter works both as a battery-powered and manual kick scooter. When fully charged, this product can take your kid on a 40-minute fun ride spanning up to 2 mph (3.22 km/h). 
This device is super easy to use. Just get your kid to stand on it and press the power button. It starts cruising around seamlessly, while giving off fun bubbles from the back of the deck. When the battery power goes low, your toddler can then start riding it as a kick-scooter. 
Pros
Extremely low speed

Non-slippery deck

Can serve as kick scooter

Comes with fun graphics and bubbles
Cons
GoTrax GKS Plus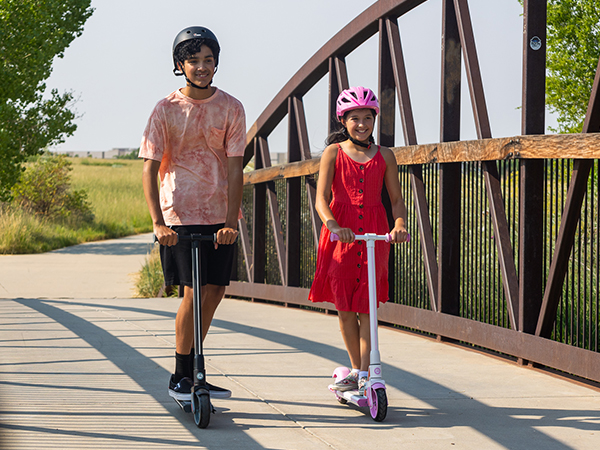 The GoTrax GKS Plus is one of the best kids electric scooters for kids of 6 years and above. It can travel up to 7 miles (ca. 11 km) on a single charge, and its maximum speed is 7.5 mph (ca. 12 km/h). It weighs a little less than 10 kg, and comes in different exciting color options. 
Pros
Highly stable while in motion

Comfortably wide deck

Slow speed
Cons
Wheels are made with thin rubber

Non-adjustable handlebars

Takes time to assemble
The Best Electric Scooters for Kids From 8 to 12
Segway Ninebot E10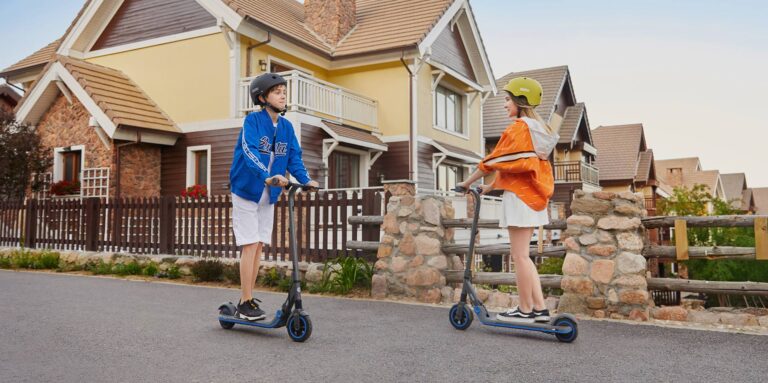 From the ages of 8 to 12 years, your child should be able to handle a bit of exciting speed. This is why Segway Ninebot E10 is ideal for this age range. This children's scooter has a top speed of 10 mph (ca. 16 km/h), which is neither too fast nor too slow, and gives the right amount of adrenaline rush. 
A single charge gives you a 6.2 miles (ca. 10 km) range, and it features three riding modes namely turbo, cruise and safe modes.
Pros
Large wheels and suspensions

Safety mode allows beginners to master the essentials of riding

Can

climb hills

LED battery indicator
Cons
No color options

Handlebar is nonadjustable
Razor Power Core E90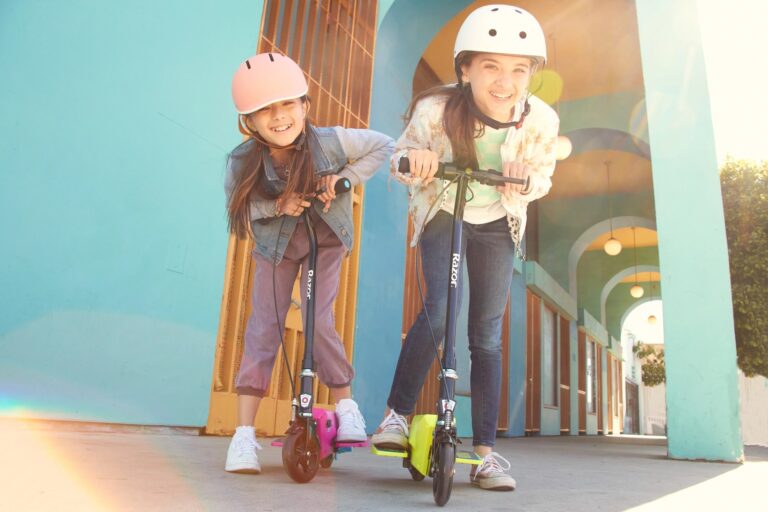 The Razor Power Core E90 makes the list as one of the best electric scooters for kids. Its maximum speed of 10 mph (ca. 16 km/h) makes it ideal for children between the ages of 8 and above. With a single charge, this device can run for up to 65 minutes, carrying a maximum weight of 54 kg.
Pros
Easy throttle button

Steel frame

Sensitive handbrake 
Cons
Handlebar not adjustable

Bumpier than other brands

Noisy motor
The Best Electric Scooters for Teenagers
Äike T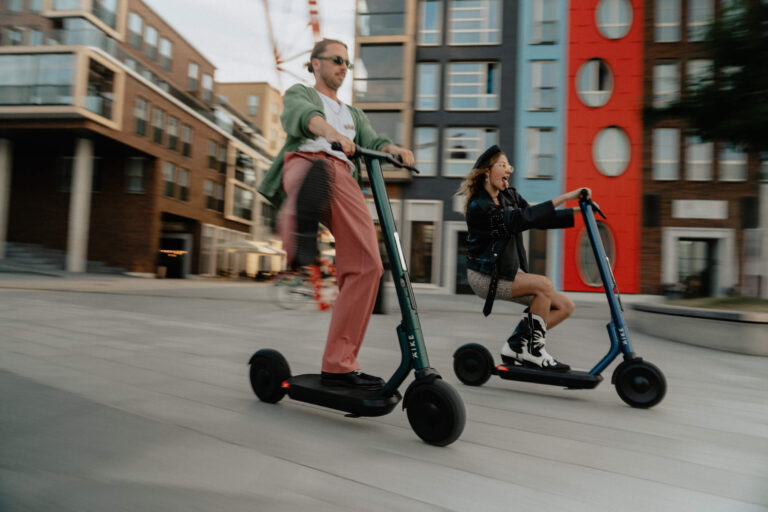 As your kids grow into teenagers, it is ideal to get them the absolute best and most efficient scooter for teenagers. That's the Äike T. Cruising at a max speed of 15.5 mph (ca. 25 km/h), the Äike T comes with a ride optimization feature that allows you to take full control of your teenager's ride. 
With its dedicated mobile app, you can set your desired speed limit, and the in-built GPS feature shows you where your teenager is at anytime. Its range also trumps that of every other brand on this list. A single charge of its removable battery gives you up to 24.8 miles (ca. 40 km) range, and you can even charge it with your phone's USB-C charger. 
Pros
Wide deck for better comfort

Can climb hills and inclines

Removable batteries 

Theft protection

Integrated with IoT

Compatible with USB-C chargers
Cons
Handlebar is nonadjustable
How Do I Pick the Best Children's Electric Scooter?
To choose the best electric scooter for children, you must consider more than just the price and size. It is necessary to buy them a product suitable for their age range. When they're still toddlers, it is best to buy them the three-wheel variants, as these types provide them more balance and control. 
When they get around 8 years old, you can get them any of the brands with speed limits of around 10 mph (ca. 16 km/h). However, it is still ideal to look out for brands with cruise and other control features, so you can detect how fast they can speed.
The deck size is another vital feature. The wider the deck, the more balanced and comfortable the ride. An adjustable handlebar also makes it easy for you to set the ride to your child's height, so it is necessary to look out for that, too.
Conclusion
Children's electric scooters are designed to provide a low-speed riding experience for kids and teenagers. The best kids electric scooters are lightweight and foldable, and come with control features that allow parents to take charge of their kid's safety while riding.
Among all the products we have reviewed in this article, Äike T provides the best riding experience, range, parental control features and protection from theft. Order your Äike T now to give your teenager a fun riding experience they'll never forget.