4 Suitable Electric Scooters For Beginners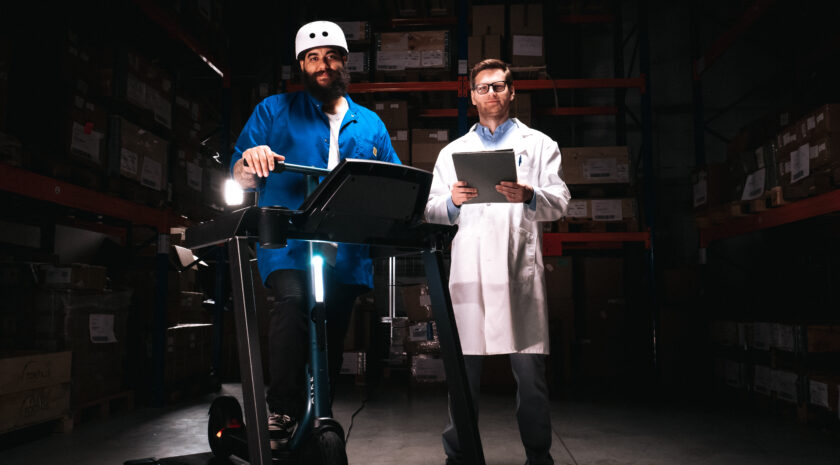 The journey to owning an electric scooter starts with admiring other people as they cruise around. It's obvious that these cute little vehicles make their life and daily commute a lot easier, and you probably can't wait to owe yours. But then, considering that it takes some time for every beginner to be able to ride with as much finesse as the old hands, you must look out for a suitable electric scooter for beginners.
Beyond admiring other people's commuting devices, when it comes to buying your own scooter, you have to pay attention to numerous aspects. You need to ensure that you buy a product that gives you value for your money. To make it easy, this article will highlight some of the most suitable electric scooter for beginners, and also share tips on what to look out for.
Factors You Should Consider Before Buying a Beginner Scooter
Before buying your first commuter device, there are some factors you should consider, that'll guide your choice. They include your budget, the range, commuter quality, and the kind of terrain on which you intend to ride it. Considering all these, we may classify scooters into three classes:
Budget scooters

Midrange scooters

Premium scooters
Budget scooters are typically more affordable. They can take you on short journeys, and they only perform optimally on smooth surfaces. They have a considerably low-end battery and motor power.
At midrange, you get a medium-priced mobility device with a larger battery and stronger motor power. Some of them can take on slightly rough surfaces and climb small inclines.
Premium products are more expensive than budget and midrange devices. Their batteries and motors are stronger, and they can climb hilly roads. They possess more features and functionalities, and give you an overall satisfactory value for your money.
You need to also consider the wideness of the deck because as a beginner, you need to stay balanced on your commuter to avoid falling off. Speed control is also essential, so it is ideal to only buy a micromobility device that allows you to control and optimize your riding speed, so you don't get into an accident.
Now that you know what to look out for that'll help you choose the most suitable electric scooters for beginners, let's compare some of the best products in the market.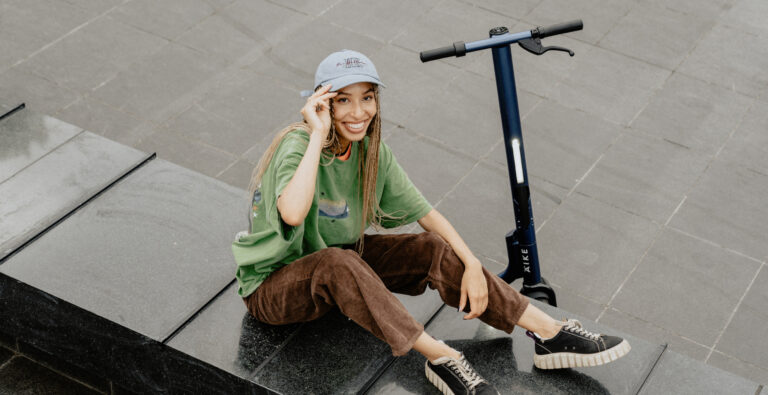 These Are the Best Foldable Electric Scooters for Beginners
Ninebot Max G30D
Ninebot Max G30D provides a considerable value for people looking to buy their first scooter. This high-end commuter comes with an impressive range of 65 km and a top speed of 20 km/h.
Its tubeless pneumatic tires are suited to take you across potholes and rough terrains without any hiccups, and the LED display on the handle shows you your ride stats on the go.
Pros
Cruise control

High-quality tires

High range

Can be connected to a mobile app

Comes with a battery management system that extends battery life
Cons
Doesn't have suspension

Slow acceleration
Price range: starting from €899.-

Unagi The Model One E500
The Unagi brand is one of the best beginner scooters in the industry if you're looking for something stylish and lightweight. It is a low maintenance scooter with a 24.95 km range, and a maximum speed of 32 km/h.
With its magnesium alloy handlebar, reinforced aluminum deck and dual motor feature, this product was designed to edge every competition. The production materials make this 11 kg commuter a lot less bulky than other competitors, but that may be just it. Its performance and safety doesn't come close to higher quality competitors like the Äike T.
Pros
Sleek design and easy to set up

Comes in multiple colors

Incredibly lightweight
Cons
Brake pedals are complex to operate

Uncomfortable on rough paths

Inefficient dual motor

Low range
Price range: starting from €990.-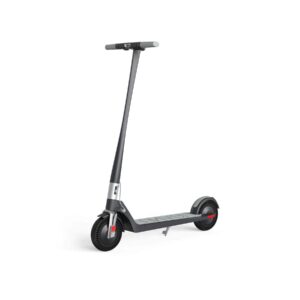 Apollo Ghost 2022
The Apollo Ghost 2022 comes with a wide deck, which is typical of some of the best scooters for beginners. It has a top speed of almost 54.7 km/h and a maximum range of up to 60 km. Although this product has an incredible speed that trumps many other competitors, it is essential to note that it isn't ideal for beginners, and not legal in many parts of the world.
Pros
Impressively high range and power

Sturdy design

Good brakes

Wide deck
Cons
Display isn't bright

Excessive speed — not ideal for beginners

Doesn't include a fast charger

Weighs 29 kg
Price range: starting from €1840.-

Äike T
The Äike T stands out as the best scooter for beginners for many reasons. First, it comes with a wide deck that guarantees your comfort and balance, and its ride optimization feature ensures that you set your commuter in a way that it scoots slowly.  
At full charge, its 583 W battery can hit a 40 km range and a top speed of 25 km/h. When the battery eventually goes low, this scooter is the first one to support a USB charging system. So, you don't have to worry about getting stranded anymore; just get a type C USB charger and find a place to plug it in.
But that's not all: You can also use this ride to charge your other devices like phone or tablet. Äike T, through its mobile app, gives you an accurate detail of all your ride statistics.
It was built with safety in mind and has a double-braking system. What this entails for beginners is that the brakes are twice as sensitive and will bring you to safety at a simple tap, unlike other competitors like the Unagi Model One.
Every beginner fears losing their scooter. The Äike T solves this problem, as it comes with an IoT-powered GPS that ensures that it protects it from theft. This tracker has its own power pack, so it's active at all times, even when the main battery is removed. 
Pros
Weighs only 19 kg, but can bear weights of 150 kg

Can climb hills and inclines

Rides smoothly on rough surfaces

You can charge the battery with USB-C charger 

Ride optimization helps you control the scooter's movement

Pneumatic tires for suspension, wide deck and comfortable handle bar

Weatherproof. Can ride with snows, rain, ice and even hail

Removable battery and 

GPS theft protection
Comes in multiple colors
Cons
Maximum speed

 of 25 km/h in EU (compliant with the regulations) and  32 km/h abroad
Price range: starting from €999.-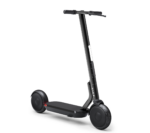 How to Ride an Electric Scooter
As a beginner, it is necessary to learn how to ride an electric scooter before you hit the road. It is advisable to start off by riding on an empty space, with the power turned off, to allow you to get a hang of it before you hit the road. Check this page to read our step-by-step guide on how to ride your commuter. 
The Best Electric Scooter For Beginners Conclusion
Every new scooter rider needs to consider their safety, balance, speed, and overall quality before buying their first scooter. Äike T comes with so many incredible features that make it the most suitable electric scooter for beginners. Place an order now to be among the first 500 persons to own this sleek device.