Äike Conquers Paris. Why?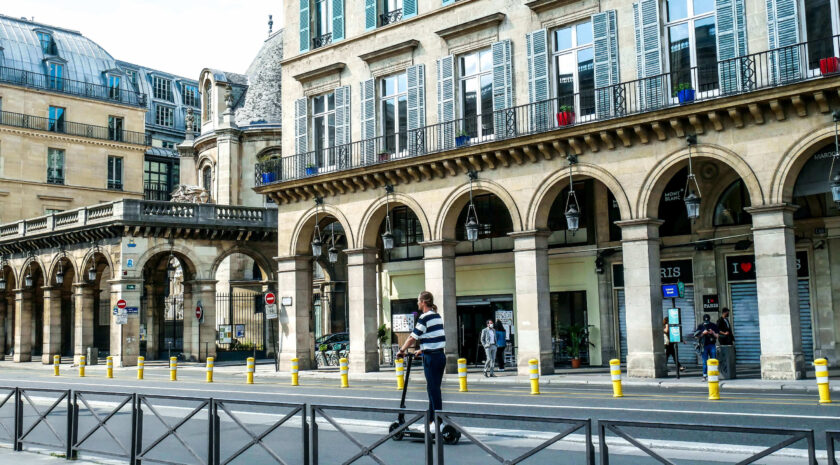 We are about to open our very own showroom in Paris! And we get it. It does sound wild. Another e-scooter on the streets? "Why?" you may ask. The thing is, we have been planning for it for some time already. And we have reason to love coming to Paris as much as you have reason to love Äike  electric scooters in Paris.
France is Welcoming the Emission-Free Rides
According to Bloomberg, the latest vehicle sales data for France tell an interesting story about the future of the auto sector in Europe. Sales of electric vehicles still continue to rise quickly. The plug-in vehicle share of new sales is now running at around 13%. That's up from 11% in 2020 and just 3% in 2019. Sales of plug-in hybrid vehicles rose a remarkable 134% in February.
According to Paris today, cycling has become an essential part of life in Paris, especially in recent years, thanks to the commitment of the mayor. Corinne Menegaux, who is the director of the Paris office of tourism, says: "We already had more than 1,000km of cycling infrastructure, and much more has been rolled out since the health crisis, to enable Parisians and visitors to get around the streets of the capital safely. Bike tours, organised, for example, by Paris à Vélo or Paris Bike Tours, are also a real opportunity to discover Paris differently in a leisurely and fun way. And not forgetting that cycling forms part of our policy of soft mobility for a greener and more sustainable city."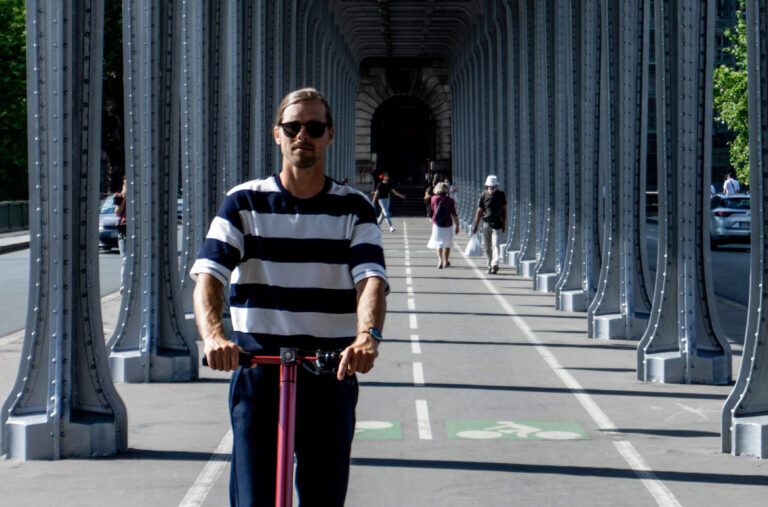 Just last year the e-scooter sale in France rose over 30%, with 700 000 scooters bought. France is really becoming the sweet spot for electric two-wheelers to prosper and Paris is the cherry on top to make a start for it. In addition, the legislation of the country supports buying a light electric vehicle in order to empower emissions reduction. Äike is bringing clean air and opening a showroom on one of the main streets in Paris, in Rue de Rivoli.
Fighting Pollution and Congestions With a Quality Ride
We're not just tooting our own horns. This electric two-wheeler is tested in some pretty heavy conditions. It can withstand rain, minus degrees, and even snow. No CO2 being emitted in the air while waiting behind the traffic lights, because it doesn't run on emission fuels and well…you will never have to wait behind a light. Could you imagine? Not having to think of different excuses why you were late to your meeting because you won't be late anymore.
It's stable to ride with both feet on the platform and the pneumatic tires will hold you firmly on the road on different terrain. And even if some pedestrians or tourists (we've heard there are a lot of them in Paris) surprise you and jump right in front of you out of nowhere, the double-braking system will keep the braking distance short, so you could react quickly.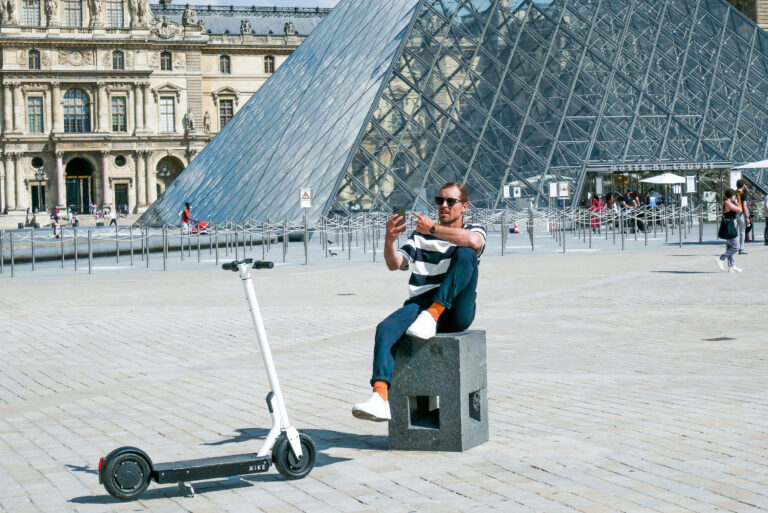 Your Very Own Electric Life-Changer
With Äike, it's not just about saving the world. It's about you, saving your time. We absolutely understand how tough it is, getting from A to B with around 19 000 tourists visiting Paris in one day, not to mention locals commuting everywhere. There should be about 2.2 million residents currently living there. A lot of people pass by!
Commuting with Äike is easy. Simply charge up Äike's portable batteries in your home. Go out (you can leave Äike outside), place the batteries back, unlock the scooter from your App and you're ready to roll! This e-scooter will carry you for 40 km before having to load the batteries again and takes up to 25 km/h. Äike is quicker than walking, but also quicker than riding a car in the city center. 
Now you know why you need Äike electric scooters in Paris. But did you know our scooters can become a solution to pollution problem? Or in Estonia at least, e-scooter is the safest mode of transport? Now you do too!